Auckland Bridge Bungy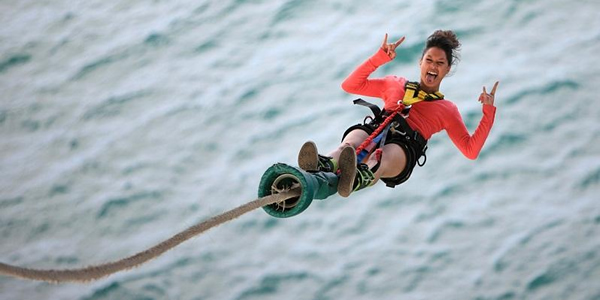 Bungy jumping of the Auckland Harbour Bridge. (Photo courtesy of AJ Hackett Bungy.)
Yes, they actually encourage you to jump off the city's most iconic bridge in Auckland, New Zealand
Auckland Harbour Bridge bungy jump
Tour length: 40 min (allow 2 hr. total)
Tour times: 9am, 10:30am, 11:30am, 1:30pm, 2:30pm.
Tour cost: NZ$150 (US$121)





AJ Hackett Bungy
Westhaven Reserve,
Curran St, Herne Bay, Auckland
Tel. +64-(0)9-360-7748 or toll free in NZ 0800-GO-BUNGY
www.bungy.co.nz

Tip: Best to book in advance.
Tip: You must wear proper, closed-toe, lace-up shoes.
Tip: Spring for the photo/DVD pacakge.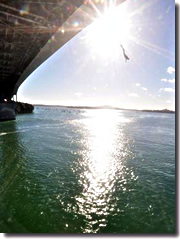 Several cities offer thrilling climbing tours that rope you in and let you walk up and over the suport structures of their iconic bridge.
Auckland has decided it can do the bridge walk one better and—in true Kiwi style—and let folks bungy jump above Auckland Harbour.
The plunge is a heart-stopping 40 meters (131 feet). You can do a traditional ankle tie, a harness jump, go tandem, or—every adrenaline junkie's favorite option—the "water touch," which is an oddly tame euphemism for "dunking your head and upper body into the ocean waters at high speed when you get to the end of your rope."
Depending on who you ask, this is the only ocean touch bungy jump in New Zealand or the only one in the world.
My favorite online review? "Felt as safe as I could jumping off a bridge."
Jumpers' less crazy companions can accompany them into the Launch Pad (safely roped to the wall) and watch them entrust their lives to the tensile strength of a giant, glorified rubber band.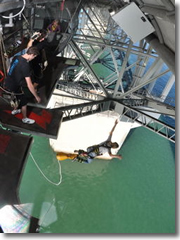 The company also offer a more traditional bridge climb for those whose self-preservation instincts prevent them from having the desire to jump off.
Costs & details
The only company with permission to do this is AJ Hackett Bungy, in Westhaven Reserve at the end of Curran St (Tel. +64-(0)9-360-7748 or toll free in NZ 0800-GO-BUNGY, www.bungy.co.nz).
A jump costs NZ$150 (US$121)—but that doesn't include the proof of your bravery/foolishness. A set of photos cost an extra NZ$45, a DVD another NZ$45, so just go ahead and buy both for NZ$80—overpriced, yes, but you'll want the pics to back up your bragging rights.

| | |
| --- | --- |
| The Travel Store | |
details