The Coromandel and Bay of Plenty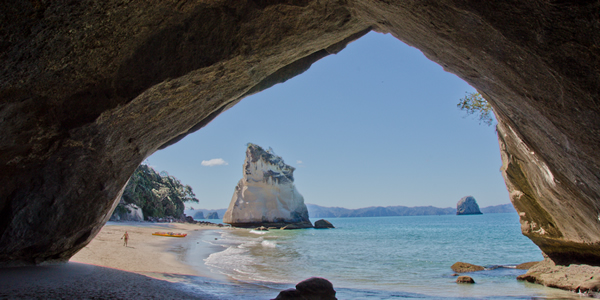 Cathedral Cove on the Coromandel Peninsula, North Island, New Zealand.
The best of the northeast corner of New Zealand
The Coromandel and Bay of Plenty offer a perfect Kiwi balance: gorgeous landscapes, great food, and loads of outdoor activities that are not nearly so strenuous as many available in New Zealand's more adrenaline-fueled areas—yet offer ten times the rewards in scenic payoff. Call it the "refined Kiwi adventure."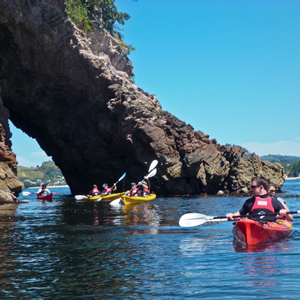 Kayaking Cathedral Cove - We rounded an offshore islet on Pacific swells, threaded our kayaks through narrow a sea cave that had wormed its way through the rock, and suddenly there it was: Cathedral Cove. Twin sugar-sand beaches curved under cliffs to either side of a narrow promontory. Bone-white shards of limestone 30 feet high littered the waterline when they had fallen from the cliff side long ago to be sculpted by the surf...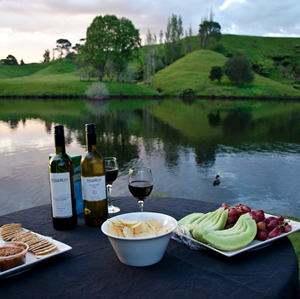 Kayaking to glowworms in Waimarino - We nibbled cheese and fruit, sipped wine, and watched swans and ducks cruise around tiny Lake McClaren as the sun set behind the wildflower-clad hillside of the opposite shore. Our guide packed up the picnic table and we slid our kayaks into the slow waters to paddle up the river under the settling dusk in search of a narrow, hidden side canyon where the walls would be so close we'd have to ship our paddles to keep from knocking off the carpet of glowworms...

Coromandel Tips
How to get to the Coromandel: The Coromandel Peninsula is only about 1.5–2.5 hours due east of Auckland (take Highway 1 south to Highway 2 east to Highway 25). It's only an hour and a half from the city center of Auckland to Thames (traffic willing), but about 2–2.5 hours to get all the way to Hahei, from which the Cathedral Cove kayak tours leave.
Coromandel tourism information: There's an iSite tourist office in Thames (www.thecoromandel.com), main city of the Coromandel situated at the southwest end of the peninsula (206 Pollen St., Tel. +64-(0)7-868-7284). There's another in Whitianga, main town on the eastern shore near Hahei and Cook's Beach (66 Albert Street, Whitianga, Tel. +64-(0)7-866-5555, www.whitianga.co.nz).
Coromandel accommodations: TK
Coromandel dining: TK

Bay of Plenty Tips
How to get to the Bay of Plenty: It is also about 2.5 hours from Auckland to Tauranga on the Bay of Plenty; just take Highway 1 to Highway 2, which leads straight there. Just before the city, you cross the Wairoa River and pass through Bethlehem, base for the Waimarino glowworm kayak tours. Tauranga is also about 2 hours from Hahei in the Coromandel.
Bay of Plenty tourism information: There's an iSite tourist office in Tauranga at 95 Willow Street, Library Arcade, Tauranga (Tel. +64-(0)7-577-6234, (www.bayofplentynz.com).
Bay of Plenty accommodations: TK
Bay of Plenty dining: TK

| | |
| --- | --- |
| The Travel Store | |