The Lost World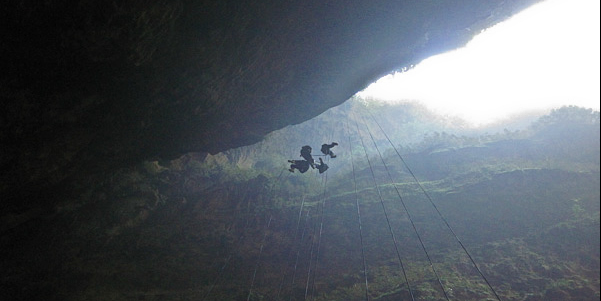 Absailing into the Waitomo caves, North Island, New Zealand.
Abseiling 333 feet into the dark of Waitomo caverns in New Zealand
Waitomo Lost World
Tour length: 4 hrs
Tour times: 7am, 10am, 11:30am, 2:30pm
Tour cost: NZ$300 (US$235)





Waitomo Adventures
www.waitomo.co.nz
Tel. +64-(0)7-8787788 or toll free in NZ 0800-924-866

Tip: Book more than 24 hours in advance and save 20%.
Tip: Wear loose-fitting, comfortable pants (no jeans—though you already know not to travel in jeans, right?).
Tip: Don't bother bringing your camera; they're not allowed for safety reasons (don't want to you, say, letting go of the rope to grab as shot 200 feet off the ground), but the guide will snap plenty of pics of you.
About halfway down the free-hanging 100-meter rope, I stopped worrying about plummeting to my death and paused to enjoy the view of Waitomo.
The descent
Shafts of sunlight spilled over the vegetation dripping from cave opening above my head to pierce the mist that slowly swirled around me.
The light strafed the cave walls obliquely before dissipating into the inky abyss below my dangling boots.
The rush of an underground waterfall echoed somewhere in the near distance. The stalactites all around me were a rare form that grow out at an angle rather than straight down. This was due to microscopic algae in the water droplets that formed them straining, generation after generation, to pull the spears of rock up toward the sunlight.
I adjusted my grip and continued my abseil down into the deep dark of Waitomo Cave.
The cavern
Down below we followed a small underground stream higher into the cavern, which narrowed as we climbed up a field of tumbled down rocks and boulders.
We finally wedged ourselves into the very end of the cavern, where the ceiling was so low we had to crouch. We turned off our headlamps, and there, all around us, were glowworms.
It wasn't a huge nest, but it was a chance to see several hundred of the beautiful beasties far, far closer than any other glowworm experience I had in New Zealand.
Thing is, I'm not sure you want to see them up close, especially once you turn your headlamp back on.
From afar, in the dark, glowworms are ethereal, almost magical creatures, like you've stumbled into a chapter from a Sci Fi/Fantasy book.
Up close, in the light, you see that behind each glow is an inch-long larval fungus gnat—about as pretty as they sound.

The climb
After we admired the glowworms (with our lights off), we discovered the major problem with rapelling 100 meters down into a sinkhole cavern.
Somehow, you have to get back up and out.
Our scramble up the rockslides in the cave had only regained us about half the altitude. Turns out much of the rest of the ascent was by ladder.
First was an insanely long metal ladder that was only bolted to the wall near the top, so it swayed disconcertingly. The fact that each rung was slippery with mud from the last climber's boots made the climb that much more challenging. You are roped in and on belay the entire way, so you're perfectly safe even if you let go, but it still feels way more dangerous—and much more of a workout—than the abseil down.
Following this knee-knocking metal ladder are several stretches of rock slope outfitted either with staircases or with simple wooden slats bolted across to make ladder rungs.
It's a thigh-burning end to an amazing underground experience.
Details, costs, & other tours
This "Lost World" tour takes four 4 hours and costs NZ$300 (US$235) from
Waitomo Adventures (Tel. +64-(0)7-8787788 or toll free in NZ 0800-924-866, www.waitomo.co.nz).
Other adventures from this company include:
Lost World 7-hour "Epic" - Extended verison of the Lost World tour that includes a much longer subterranean hike, up the stream, past underground waterfalls, and more glowworms, plus lunch underground and a BBQ dinner once you're back up (7 hrs; NZ$435/US$340).
TumuTumu Toobing - Rafting an underground river in an inner tube (4 hrs; NZ$160/US$125).
Haggas Honking Holes - Abseiling down underground waterfalls (4 hrs; NZ$235/US$185).
St. Benedict's Caverns - A dry cave journey that includes abseils and flying fox zip lines amid the stalactites (4 hrs; NZ$132/US$105).


| | |
| --- | --- |
| The Travel Store | |
details