Rafting the Kaituna River and Tutea Falls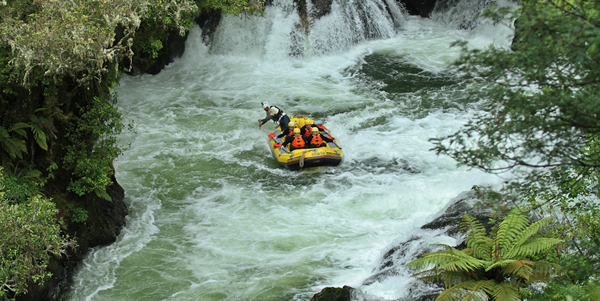 Rafting to Kaituna Falls, North Island, New Zealand.
Plunging over the world's highest commercially raftable waterfall on a whitewater daytrip from Rotorua
Rafting the Kaituna River & Tutea Falls
Tour length: 3 hrs
Tour times: 9am, 12:30pm, 3:30pm daily in summer (in winter, 10am, 2pm)
Tour cost: NZ$99 (US$76)






Raftabout
391 State Highway 33
Okere Falls, Rotorua
Tel. 07-343-9500 or toll free in NZ 0800-723-822
www.raftabout.co.nz

Tip: You must be 13 years old.
Tip: Bring a swimsuit and a towel (they provide wetsuits and all safety equipment).
I've never been much of a Class V rapids fan. I'm content to thrash the moderate whitewater of a Class III river—which is, really, what most of the Kaituna is: a fun, 90-minute Class III river jaunt though 14 rapids and over three waterfalls.
Ah yes, the waterfalls. That's where it gets... interesting.
Two of the falls are brief and fun, a chance to get plenty of splashback on your wetsuit. (In fact, at a shorter drop near the very end, the guide likes to paddle back into the falls so that it submerges the gunwhales of the raft, thoroughly dousing the riders under a pummeling fury of water. The guides seem to think that we think this is fun, and nothing will disabuse them of this notion.)
However, right before that dunking place, near the end of the rapids ride—just after the last bailout side path called the Aussie Highway (Kiwi and Aussies take any chance to rib one another)—you get to go over Tutea Falls.
Tutea Falls is the world's highest commercially raftable waterfall.
At a thundering seven meters (23 feet), not even Class V+ covers it. This one's off the charts completely.
Don't worry, though: the guides are experienced, the rafts are enormous, and there's a good 50% chance you'll land upright at the bottom.
The other 50% will be flung out of the raft as it flips and go sailing through the air to land in the plunge pool below.
This, they assure me, is perfectly normal. The guides always aim to land upright, but there's little they can do when faced with a force of nature this powerful.
Have fun!
Costs & details
The adventure starts in Okere Falls, a hamlet on Route 33 just northeast of Lake Rotorua on New Zealand's North Island. If you have a car, there's a nice little cafe near the turn-off for the outfitter. If not, the rates include a hotel pick-up in Rotorua.
A trip down the rapids and over the falls costs NZ$99/US$76 from Raftabout (tel. 07-343-9500 or toll free in NZ 0800-723-822, www.raftabout.co.nz). Or you can book ahead through our partners at Viator.com—again, including hotel pickup.
If a rafting trip intrigues you—but not the 27-foot-waterfall bit—Raftabout does offer other river tours.

| | |
| --- | --- |
| The Travel Store | |
details