ZORBing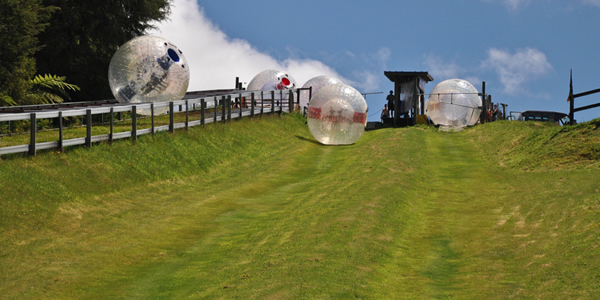 The ZORB experience near Rotorua, North Island, New Zealand.
Bounce down the hill like a hamster inside a giant inflatable beach ball—ah, New Zealand!
ZORB Rotorua
Tour length: ~20 min.
Tour times: Constantly 9am–5pm (a bit later Dec 13–Feb 20)
Tour cost: NZ$45 (US$35)





ZORB Rotorua
Hwy 5 at Western Road, Ngongotaha, Rotorua
Tel. +64-(0)7 357-5100, toll free in NZ 0800-227-474
www.zorb.com

Tip: Book several rides at once to save money.
Tip: Bring a bathing suit and socks.
Tip: Don't do the "Zorbit" dry ZORB."No one every does the dry ZORB twice."
This was the advice passed long to me by a cheery teenager manning the cash register at ZORB, a grassy hillside on Route 5 just west of Lake Rotorua, the adventure capital of New Zealand North Island.
Here otherwise sane, respectable human beings pay good money to act like hamsters, rolling down the hill inside giant inflatable beach balls.
What is a ZORB?
ZORBing is one of the sillier adrenaline activities invented by New Zealanders—yes, even sillier than bungee jumping.
Picture a 3.5-meter (11.5-foot) transparent beach ball.
Now picture a smaller one floating in the middle of it.
(The layer between the two balls contains air and some connective tissues to hold the smaller ball at the core of the larger one.)
Inside the smaller ball is a silly person wondering how he got talked into doing this.
Then some grinning Kiwi cheerfully gives you a push down the hillside.
The Wet ZORB - Fun
The Zydro is a blast. They put a few inches of water inside it first, you dive in through a narrow tube, they zip up the entrance, and away you go, slipping and sloshing around as if riding a roller coaster inside a self-contained Slip-n-Slide.
The ride takes all of 60 seconds but feels longer. At the bottom, they unzip the tube entrance and you come sliding out along with a sluice of water. Rebirthing jokes are optional, but nearly unavoidable.
You do have two track choices for getting back to the bottom.
One zig-zags, so you bounce crazily around inside the thing every time you hit a turn. This is for those who wish merely to lie there, sloshing back and forth in passive fun.
The other track is straight down the hill, designed for those who want to stand up and attempt to remain vertical the whole way down, scurrying like a hamster to try to keep their legs under them. Watching them fail to do so is the spectator sport enjoyed by all those waiting at the bottom for their crazy companions to bounce back down the hillside.
Practical note: You can buy (ZORB-branded) shorts and Tees (and towels) on site, but be sure to bring some socks. You are required to wear them (so errant toenails won't damage the ZORB). If you forget a bathing suit and do not wish to buy, the staff do not seem to mind letting folks go in their underwear.
The Dry ZORB - Not Fun
The wet ZORB is fun.
The original, dry ZORB is the opposite of fun.
Dry ZORBing—or the "Zorbit"—should be added to the list of things we cannot do to prisoners.
That doesn't mean regular people can't pay NZ$45 for the privilege of experiencing one of the more innovative ways ever devised to induce vomiting.
This ZORB ball is much like the wet one, only with straps dangling off the inner wall to immobilize your waist, chest, legs, and arms—like a torture rack, or an S&M playpen.
A sadistic, ever-smiling staff member cinches down all the straps so you are imprisoned in a classic "I give up" pose, forearms raised and legs apart.
Then he pushes you down the hill again.
This time, rather than sloshing around in a warm puddle, you are flung head over heels around and around and around and around—vertically—to experience all the joys of centrifugal force and of trying not to throw up.
At the bottom, they unstrap you and take numerous photographs of you, grimacing a rictus "smile" and utterly failing to look like you just had a good time.
Details & costs
A ZORB (tel. in New Zealand 0800-227-474, www.zorb.com), ride—wet or dry—costs NZ$45 (two can share a wet ZORB for NZ$35 each, three for NZ$30). Photos are extra.
There are various multi-ride packages that make each ride cost less. Just don't blame me if you sign up for the dry ZORB twice.

| | |
| --- | --- |
| The Travel Store | |
details