Crazy, filthy off-road driving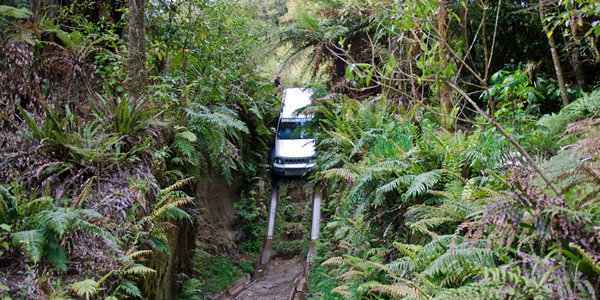 Offroad driving training near Rotorua, North Island, New Zealand.
Offroading and 4x4 adventures in Rotorua New Zealand
4WD Bush Safari
Tour length: ~ 1 hr
Tour times: Hourly 9am–4pm
Tour cost: NZ$95 (US$73)





Monster 4X4 Thrill Ride
Tour length: 10–20 min.
Tour times: On demand 9am–4:30pm
Tour cost: NZ$50 (US$36)





OffRoadNZ
193 Amoore Road, Rotorua
(On Route 5 just west of Lake Rotorua)
Tel. +64-(0)7-332-5748
www.offroadnz.co.nz

Tip: Stay loose. Don't drive angry. Try to remember to drive like a sane person when you leave the propertyI know New Zealand is the land of crazy adrenaline sports, but when they told me to drive my Suzuki 4WD up to the edge of the cliff and then, rather than hit the brakes like a normal person, to hit the accelerator instead, I thought things had perhaps gone a bit too far.
The 4WD Bush Safari
You know how in car chase scenes in the movies if one guy goes flying off a cliff (hopefully a bad guy), the vehicle seems to fall almost in slow motion?
Yeah, that's not how it happens.
Forget slow-mo. You hurtle toward that ground at a frightening speed—way faster than you'd expect. There's definitely not enough time for your entire life to flash before your eyes. Just the last 30 minutes or so, right back up to the moment you signed the iron-clad injury waivers back at the office.
Of course, like all Kiwi adventures, this one had doubled-up safety procedures securely in place. My little Suzuki Jimny was tethered to a thick safety line, and its wheels were firmly entrenched in two metal guide rails for my short hurtle down the cliff side.
Still, my heart was in my throat as I popped the emergency brake and gunned the gas to let the vehicle slip over the edge.
The vehicular cliff dive—only six meters (20 feet) and at an 80° slope, but darnit it felt higher and steeper—was definitely the scariest part of the 4WD bush safari at OffRoadNZ outside Rotorua.
The most fun part, though, was gunning it into the two-foot-deep mud puddles, trying to get enough speed and downward angle to force a sheet of dirty water to go up all the way over the car roof and then fling long roostertail plumes of water to either side as you rocket through the water.
This is all done an enclosed course (mostly old logging roads on 100 acres of bush), not actual off-roading in the wilderness, and you're talked through the course by a guide on a walkie-talkie who jogs around to watch over you from the sidelines.
Detracts a bit from the macho element, but it does add a nice layer of safety to the experience so that you know full well that the rickety logs over that chasm ahead will (probably) hold the weight of your car.
If nothing else, I came away with a new set of extreme driving skills that will serve me in good stead next time I am being chased by bad guys along some twisting mountain road in the South of France.

Monster 4X4 Thrill Ride
After showcasing my obvious off-road driving expertise in the little Suzuki, I was a bit disappointed that they woudn't let me behind the wheel of the beastly custom 4x4 with the rollbars and the comically oversized wheels for my Monster 4x4 Thrill Ride. Instead, I was helmeted and tightly strapped in behind a professional driver.
Fifteen seconds later, I was profoundly grateful not to be driving as the left wheels of the vehicle went up a steep ramp and the whole car rode along at a 45° angle.
I was right back in movie mode, trying to decide whether this was more Blues Brothers or Dukes of Hazzard, when the 4x4 flopped back down on all four tires and the driver gunned the V6 engine to zoom up a steep dirt embankment.
We literally flew off the top of it, grabbing a good four seconds of air before a jaw-jarring landing onto the dirt road beyond, where he spun the wheel so we slid sideways through a curve, and went barreling off into the bush at high speed.
Definitely Dukes of Hazzard.
The next 10 minutes (felt much longer) was like a trackless roller coaster ride, only with fewer safety elements and a lot more clouds of dirt.
We raced up, down, and sideways through the jungle-thick bush, flying off jumps while branches grabbed at us from both sides.
Great fun. Makes me wish my car horn played "Dixie."

Detail, costs, & karting
OffRoadNZ (www.offroadnz.co.nz) is on Route 5 just west of Lake Rotorua. It's open daily 9am to 5pm.
The 4WD Bush Safaris leave hourly until 4pm and cost NZ$95 (US$73).



The Monster 4X4 Thrill Rides leave on demand from 9am–4:30pm and cost NZ$50 (US$36).

They also offer raceline karting in 390cc go-karts than can reach speed of up to 100kph (62 mph) on the straightaways of the 1.2-km track. It costs NZ$67 (US$52) per person for a 10-minute race—though the prep and safety talk take another 20 minutes. This one is obviously much more fun with friends or a group.

| | |
| --- | --- |
| The Travel Store | |
details