Black Water Rafting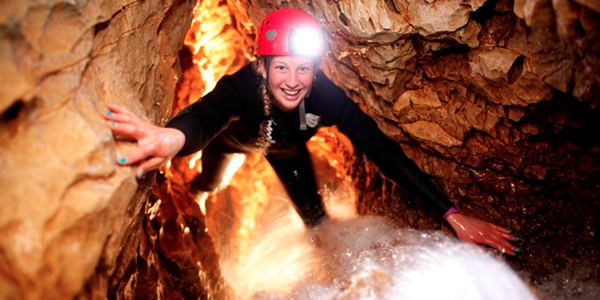 Climbing up an underground river on the Blackwater Rafting tour of Waitomo Caves. (Yes, I know that happens to be a photo of Katy Perry. It was the only picture of the right dimensions I could find—courtesy of Tourism New Zealand—that showed the experience, as most of my own came out way under-exposed).
Tubing down an undergound river under constellations of glowworms in Waitomo, New Zealand
Waitomo Black Water Rafting
Tour length: 3–5 hrs
Tour times: 9am, 10:30am, 12pm, 1:30pm, 3pm (5-hr version: 9am, 2pm)
Tour cost: NZ$119/US$95 (5-hr: NZ$220/$182)





Legendary Black Water Rafting Co./Discover Waitomo
www.waitomo.com
Tel. +64-(0)7-8786219 or toll free in NZ 0800-456-922

Tip: Book more than 24 hours in advance and save 10%.
Tip: Wear swimwear (you'll be given a wetsuit, boots, and helmet).
I floated on my back in the black water of an underground river.
I let the slow, peaceful current carry me out of time and thought, gazing at the infinite constellations of glowworms carpeting the tunnel ceiling and walls.
Hard to imagine that soon I would be clambering up underground waterfalls, squeezing through impossibly tight crevasses, and slithering along gushing streams past cave eels longer than my arm.
Black Water Rafting
Waitomo, in Maori, means "water cave," and among the many Waitomo outfitters, Black Water Rafting offers the most trips that really get you into that water.
The classic adventure is the so-called "black water rafting"—which is really more like tubing in a daisy chain.
Your gear up in wet suits and helmets, tramp down into the cave to an underground river with a group, and variously pull yourself along by ropes or link tubes to form a train and float down the river.
This company puts an emphasis on thrills, so at various points they give you the option to slide down a waterfall chute, or jump backwards over a ledge to land on your tube below. All good fun.
Rafting + thrills
Other packages and versions of the trip offer more chances to get active and goose your adrenaline, inlcuding a lemon-squeeze abseil to get into the cave (lowering yourself down a rope through a tight opening in the ground), and the Flying Fox, a thrilling blind zipline ride down the tunnels in the pitch dark.
Don't worry. It's all safe. At least, I survived.
Details, costs, & other tours
There are two main options from the Legendary Black Water Rafting Co./Discover Waitomo (Tel. +64-(0)7-8786219 or toll free in NZ 0800-456-922, www.waitomo.com):
A three-hour cave tubing adventure for NZ$119/US$95.
A five-hour tubing, abseiling, and flying fox adventure for NZ$220/US$182 that tacks onto the beginning that free rappel through a narrow cave opening, a short cave hike, and the spooky zipline ride.
Also available direct from the company are several dry cave walks, and an underground river trip through glowworm caves on a proper boat (as opposed to in an inner tube), suitable for all ages.

| | |
| --- | --- |
| The Travel Store | |
details