Kayaking Waimarino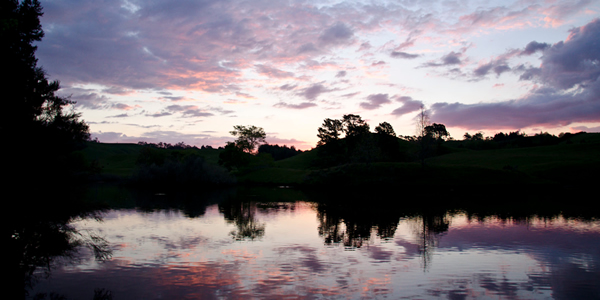 Sunset before the kayaking tour to Marino, North Island, New Zealand.
An idyllic evening kayak paddle to a hidden canyon glittering with glowworms outside Tauranga, New Zealand
Waimarino glowworm kayak trip
Tour length: 3.5 hrs
Tour times: Once daily near eveving, which varies month-to-month (as early as 4pm in June; as late as 7:45pm in January)
Tour cost: NZ$120 (US$95)





Waimarino
26 Taniwha Place
Bethlehem, Tauranga
Tel. +64-(0)7-567-4233
www.waimarino.com

Tip: Book at least 24 hours in advance.
Tip: Wear comfy, loose, warm clothes (no jeans). They privide PFDs and windbreakers, but you kayak in your clothes, so wear stuff that can get wet if necessary.
We nibbled cheese and fruit, sipped wine, and watched swans and ducks cruise around tiny Lake McClaren as the sun set behind the wildflower-clad hillside of the opposite shore.
Our guide packed up the picnic table and we slid our kayaks into the slow waters to paddle up the river under the settling dusk.
An easy paddle
It was an easygoing paddle, not strenuous in the slightest, with plenty of time to chat with the guide.
As darkness fell, we turned on our headlamps and crusied past another creek flowing in from the left past a small power station.
A little ways beyond, once it got good and dark, our guide had us turn off our headlamps.
The trees to either side of us twinkled like Christmastime with glowworms.
Amazing.
The best is yet to come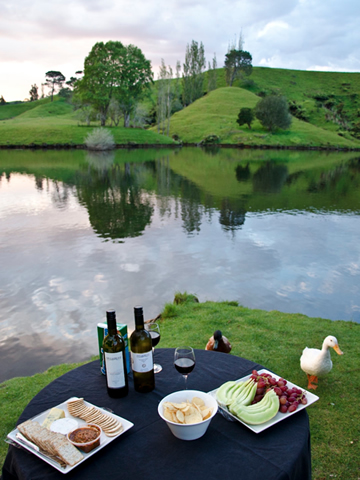 A picnic before the kayaking trip to Waimarino on the Coromandel Peninsula.After we watched for a while, we backtracked up to that side creek paddled up it, around the cement sluiceways of the slumbering power station.
Our guide explained that, years ago, a kayaker had come back from the river to report he had found a wonderful glowworm spot just beyond the power station. Local commercial tour operators investigated, liked what they saw, and started running glowworm tours to kayak down the river and admire the sparkling trees, as we just had.
Then one year, just for kicks, a spare guide broke from the group while they were immersed in their wonder to paddle up this side creek and around the power station's outflow channels—which were, at the time, gushing, so it was a tricky manouver to get around it.
What he found put the fairy lights in the trees to shame, and was clearly what that first kayaker had meant when he came back raving about glowworms.
Around a bend just past the power station, the creek narrowed through a low, short canyon maybe six to ten feet across. Carpeting both canyon walls were thousands upon thousands of glowworms. The walls were close we has to ship our paddles to keep from knocking off the glowing larvae.
I hate to wax rhapsodic, or to over-sell the experience, but quite honestly this is one of the most spectacular things I have ever seen. I felt like I was on another planet, or inside a fairy tale where magic had taken hold.
Maybe I was simply in the right mood that particular evening, but Waimarino was quite possibly my favorite thing I did in all of New Zealand. Sure, I saw greater numbers of glowworms in Waitomo (on more thrilling and active adventures), but this experience was so intimate and magical, the others just can't compare.
Details & costs
The NZ$120 (US$95) kayak tour leaves from Waimarino's (www.waimarino.com) base of operations (a water-themed summer camp) in Bethlehem, a western suburb of Tauranga on the Wairoa River.

The actual river trip only takes 90 minutes to two hours, but the whole experience takes about 3.5 hours once you throw in transportation and the pre-paddle canapés at sunset (a lovely way to get around the fact that you have to leave at dusk to time the trip just right, so you might as well enjoy the wait).
Because it is nighttime-dependent, tours leave only once daily, and the departure time varies month-to-month (see their website)—as early as 4pm in June, and as late as 7:45pm in January.

| | |
| --- | --- |
| The Travel Store | |
details