Up the Nile Without a Paddle
A day immersed in the Nubian culture of Aswan, Egypt—From the artifacts in the Nubian Museum to sailing a felucca to the mud brick villages on Elephantine Island and a Nubian dinner overlooking the Nile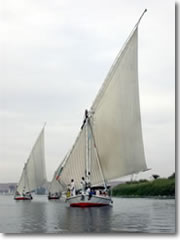 Feluccas circling Elephantine Island in Aswan, Egypt. (Photo by Reid Bramblett)
When my felucca captain, chest-deep in the tea-colored waters of the Nile, fixed me with a gaze that clearly said, "Maybe it would help if you got out and pushed, too," I started questioning the wisdom of bargaining my way to the cheapest boat available.

None of the other feluccas seemed to have problems avoiding the shallows. I had an afternoon to kill in Aswan, Egypt's southernmost city, before my three-day Nile cruise departed the next morning. Since tomorrow's cruise would cover Aswan's major sights, I spent my free time investigating the local Nubian culture.

The Nubian Kingdom of Kush was already ancient when the Pyramids were built, but this 10,000-year-old civilization was nearly wiped out in 1960 when the Aswan High Dam flooded its homeland with Lake Nasser. Most of the 800,000 displaced people ended up in Aswan.

I headed down to the Corniche road along the Nile to bargain for a felucca, the traditional Nile boat with a lanteen sail, a hand-sewn triangle of canvas with a scimitar curve. Most feluccas are chartered for aimless one-hour cruises, but I had a goal.

I knew Elephantine Island was home to a trio of traditional Nubian villages, and after my inept (but cheap!) felucca captain got us off the rocks a third time, I directed him to drop me off at the island's nearest dock.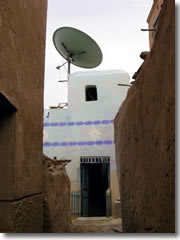 The Nubian houses on Elephantine Island at Aswan may be built of mud brick, but they do have satellite TV service. (Photo by Reid Bramblett)
Just a stone's throw from modern Aswan, I wandered narrow dirt streets lined by vibrantly colorful mud brick houses. Goats roamed everywhere, and black-swaddled women led laden grey-whiskered donkeys down the palm-shaded path between villages, flocks of geese got underfoot, and I didn't see another tourist for two hours.

Not that there weren't signs of the 21st century. A satellite dish perched atop one mud brick house, and from another door I heard chickens clucking and a TV blaring. When I entered the sloping main square with the ferry dock for Aswan, a gaggle of children surrounded me demanding pens, which they trade like baseball cards.

I leapt aboard the ferry just as it was pulling away, earning big smiles and a cheery chorus of as'salaam aleikum ("hello") from the men on board, who grabbed my arms to steady my landing. The women sat silently at the front of the boat, beyond the gunwale, never interacting with the chattering men.

When we got to the opposite bank, I followed the winding road to the modest but excellent Nubian Museum, where plaques detailed the engineering projects that rescued various temples from being drowned under Lake Nasser, including the one that now sits inside New York's Metropolitan Museum.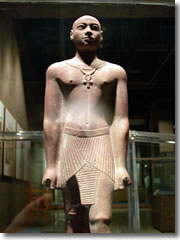 A quartzite statue from Karnak in Aswan's Nubian Museum. It shows Horemakhet, son of Shabaka (25th dynasty) and High Priest of Amun in Thebes during the reign of his father and two of his successors. Though the form is purely Egyptian, the facial features are more typically Kushite. (Photo by Reid Bramblett)
I bartered a taxi down to E£5 (85¢) to take me up to the southern suburbs of Aswan and the Nubian House Restaurant, a series of terraces with commanding views over the Nile. The waiter recited the five dishes available; I opted for "green Nubian soup" and "veal in our sauce."

He brought out mint tea, bread, and a bowl of thick, greenish paste. I grinned at their conception of "soup" and, ravenous, started ladling big mouthfuls of it. I was about a third of the way through my erstwhile soup when the waiter returned with a small, steaming bowl.

It was the Nubian soup, a tasty chicken broth dense with green flakes.

Turns out, I had been eating the dip with a soupspoon.

It was good dip, though. Good soup, too. The boiled veal was stringy, but that's par for the course in Egypt, where toothpicks always arrive with the check.

My taxi driver had wanted to wait and drive me back into Aswan, but I insisted he leave; I wanted to make my own way home. The sultry midnight walk back took nearly an hour, including several wrong turns down unsignposted dirt roads, but I was in no hurry. I had the stars and moon to light my way, and the black ribbon of the Nile to guide me.
When You Go...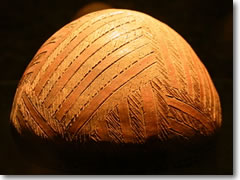 A 6,000-year-old piece of pottery in Aswan's Nubian Museum. (Photo by Reid Bramblett)
Most Nile cruises begin or end in Aswan (the other end is Luxor). You can arrange a cruise on your own through a local tour agency (the friendly Aswan tourist office can help ; 011-20-(0)97-312-811), but it's far easier to book a full Egypt package.

The best deal is from Misr Travel (800-223-4978, www.misrtravel.org), which charges from $1,499 per person from New York for its "Egypt Lovers" tour, including transatlantic airfare, three nights in Cairo, tours of the Giza Pyramids, Egyptian Museum, and Khan el-Khalili Market, flights into Aswan and back from Luxor, and the three-night Nile cruise.

In Aswan, prices are laughably low, and you bargain for everything--even the newspaper. An hour on a felucca should cost about $2.50, taxi rides rarely more than $1, and dinner less than $4 (even less if you order the dip as a main course).

For more on Egypt, visit egypt.travel.
| | |
| --- | --- |
| The Travel Store | |