University housing
Relive your college years and save money while traveling by staying in a cheap dorm room (from $22) when school is out of session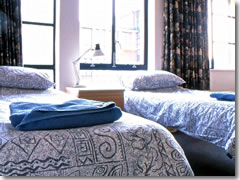 Above: A dorm room at the London School of Economics (from £27/$44 a night); Below: A dorm room at Dublin City Univeristy (from €36/$50)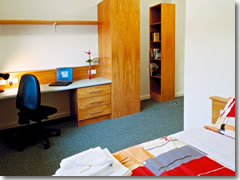 This page covers:
• When dorms are open
• How much dorms cost
• What dorms are like
• Resources:
• In the U.K.
• In London
• In Ireland
• In Spain
• In ItalyWhen the students are away, the tourists will play. During the summer school break, many European universities and colleges help pad that endowment by renting out all that unused dorm space.
When are univeristy dorms available to travelers?
University dorms are (mostly) only an option during summer vacations. From sometime in late May or early June (when students head home for the summer) through the end of August and even into September (when they return), universities in London, Dublin, and other European cities open their dorms up to travelers.
In some cases, you can get even rooms during school breaks and weekends as well—and, if enrollment is down, they'll rent empty dorms out year-round.
How much do univeristy dorms for tourists cost?
Rates vary, from around $22 to $35 per person in a single with shared bathroom down the hall to $50 to $120 for a double or twin, with or without bath—but dorms can also run as little as $150 per week.
What's more, folks under 26 often pay even less (presumably because young 'uns will just blend in, so the administrators don't have to bother explaining what a bunch of old fogies are doing living on campus).
What are dorm rooms like?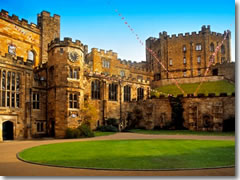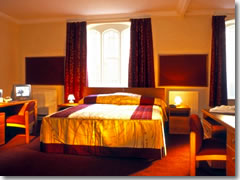 The 11th centry castle that houses students—and, in the off-season, travelers—at Durham University in England (closed for refubishment in summer 2011). Most look like, well, like dorm rooms: unfussy, unfancy, un-spacious, and full of modular furnishings that aren't treated particularly well during the school year.
Still: they are central, convenient, and astoundingly cheap.
So brush up your partying skills, dust off those dim memories of the lyrics to Louie Louie, and get ready to share the bathrooms—it's time to go back to college.
Resources to help find University dorms in Europe
University dorms for travelers in the United Kingdom
University dorms for travelers in London
University dorms for travelers in Ireland
University dorms for travelers in Spain
University dorms for travelers in Italy
Milan: Residenza Universitaria Bassini (en.milan.university-rooms.com) - Two-night minimum.
Rates: Single from €33.
Lake Como: Residenza Universitaria Santa Teresa (en.como.university-rooms.com) - Two-night minimum.
Rates: Doubles from €56.
Urbino: Collegio del Colle, Collegio Aquilone, and Collegio Serpentine (en.urbino.university-rooms.com)
Rates: Singles from €16.
Sadly, there's no official Website, buy you can get a list of student housing in dozens of Italian cities—including biggies like Rome, Florence, Venice, Milan, and Palermo—by sending a letter asking for the "Guide for Foreign Students" to:
The Italian Ministry of Education
Viale Trastevere
00153 Rome, Italy

| | |
| --- | --- |
| The Travel Store | |