The Ultimate Packing List
What to pack for a trip, how much to bring on your travels, and how to fit it all in a single carry-on with room left over for souvenirs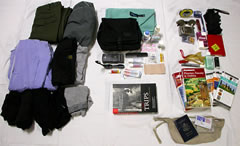 Just before leaving on a trip, I snapped this photo of every single item I take with me when I travel to Italy (minus the bag and daypack of course)—and it all fits into a carry-on size bag.This is the very same packing list I use before setting off on a trip (well, not the skirt or feminine hygiene stuff), whether it's a six-night jaunt or a six-month research trip. The only thing extra I bring is a laptop for work purposes.
The Clothes Make the Traveler
The five cardinal rules of traveling clothes: 1) Nothing white; 2) Nothing that wrinkles; 3) Clothes you can layer; 4) lots of pockets; and 5) Very few. Clothes take up the most space in your luggage, so don't pack many. Just get used to doing a bit of laundry each night or two in your room.

Packing/shopping list
This page has proven so popular, I've decided to expand it. For a much more in-depth packing list, complete with photos and links to several hand-picked options for each item on the list, check out my experimental new site WhatDoIPack.net, optimized for mobile.

Urban Europeans dress pretty snappily—not necessarily in the latest Armani suit, but well nonetheless. While you should travel in whatever wardrobe makes you feel comfortable, you'll probably be happier fitting in, so save the Bermuda shorts and sleeveless T-shirt for that trip to Hawaii.

Note: In the churches of some Catholic countries—Italy, Spain, France—and the mosques of Muslim countries there is a strict dress code that forbids shorts, skirts above the knee, and bare shoulders (and, in mosques, bare heads for women). Pack accordingly. (A silk shawl packs tiny, works as an emergency skirt or head-and-shoulder coverup, and doubles as an extra blanket during the plane ride and when evenings out turn cool).

Keeping Clean
Minimize toiletries spillage disasters by storing everything in resealable plastic baggies. Maximize the tiny space inside a bathroom bag/toiletry kit
with sample sizes and by putting shampoo and detergent into small, screw-top plastic bottles
—bonus, this makes them TSA safe.

Keep toiletries and cosmetics to a minimum. Perfume or cologne on the road become vain deadweights and spills waiting to happen (imagine everything in your bag drenched with Chanel no. 5). And for women, trust a touch of red lipstick to be formal enough for any occasion.

Documents & Sundries
Don't forget to carry your most important documents—passport, plane tickets, railpass, traveler's checks, driver's license, and credit cards—in a moneybelt.
Carry your daily needs items in a small backpack
or security purse (designed to foil pickpockets and purse snatchers).
| | | |
| --- | --- | --- |
| Section Index | | Related Partners |
This article was last updated in March 2013. All information was accurate at the time.

about | contact | faq

Copyright © 1998–2012 by Reid Bramblett. Author: Reid Bramblett.
| | |
| --- | --- |
| The Travel Store | |