The Ultimate Packing List

This is every single item I take when I travel. (Keep in mind I am actually wearing one set of clothes, including hat, belt, jacket, shoes, etc.). And it all fits into a carry-on sized bag and daypack (to prove it, see a picture of it all packed in the "How to pack it all into a carry-on" tip near the bottom of the page).
What to pack for a trip, how much to bring on your travels, and how to fit it all in a single carry-on with room left over for souvenirs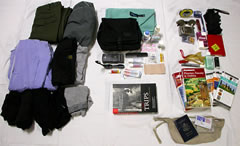 Just before leaving on a trip, I snapped this photo of every single item I take with me when I travel to Italy (minus the bag and daypack of course)—and it all fits into a carry-on size bag.This is the very same packing list I use before setting off on a trip (well, not the skirt or feminine hygiene stuff), whether it's a six-night jaunt or a six-month research trip. The only thing extra I bring is a laptop for work purposes.
The Clothes Make the Traveler
The five cardinal rules of traveling clothes: 1) Nothing white; 2) Nothing that wrinkles; 3) Clothes you can layer; 4) lots of pockets; and 5) Very few. Clothes take up the most space in your luggage, so don't pack many. Just get used to doing a bit of laundry each night or two in your room.

Packing/shopping list
This page has proven so popular, I've decided to expand it. For a much more in-depth packing list, complete with photos and links to several hand-picked options for each item on the list, check out my experimental new site WhatDoIPack.net, optimized for mobile.

Urban Europeans dress pretty snappily—not necessarily in the latest Armani suit, but well nonetheless. While you should travel in whatever wardrobe makes you feel comfortable, you'll probably be happier fitting in, so save the Bermuda shorts and sleeveless T-shirt for that trip to Hawaii.

Note: In the churches of some Catholic countries—Italy, Spain, France—and the mosques of Muslim countries there is a strict dress code that forbids shorts, skirts above the knee, and bare shoulders (and, in mosques, bare heads for women). Pack accordingly. (A silk shawl packs tiny, works as an emergency skirt or head-and-shoulder coverup, and doubles as an extra blanket during the plane ride and when evenings out turn cool).

Keeping Clean
Minimize toiletries spillage disasters by storing everything in resealable plastic baggies. Maximize the tiny space inside a bathroom bag/toiletry kit
with sample sizes and by putting shampoo and detergent into small, screw-top plastic bottles
—bonus, this makes them TSA safe.

Keep toiletries and cosmetics to a minimum. Perfume or cologne on the road become vain deadweights and spills waiting to happen (imagine everything in your bag drenched with Chanel no. 5). And for women, trust a touch of red lipstick to be formal enough for any occasion.

Documents & Sundries
Don't forget to carry your most important documents—passport, plane tickets, railpass, traveler's checks, driver's license, and credit cards—in a moneybelt.
Carry your daily needs items in a small backpack
or security purse (designed to foil pickpockets and purse snatchers).
Tips & links
Useful links & resources
GEAR, CLOTHES, & BAGS
Gear & clothing:
Magellans.com
,
REI.com
,
eBags.com
,
Travelsmith.com
,
LLBean.com
Luggage:
eBags.com
,
Magellans.com
,
REI.com
Electonic converters:
Magellans.com
,
REI.com
,
Travelsmith.com
How to pack it all into a carry-on
Lay out everything you think you'll need to take and consider the pile.
Put away any item that's not really necessary.
Take what remains, pack half of it, and leave the rest at home—you won't need it.

Everything from the photo at the top of the page packed into a carry-on and a daypack (all the clothes are in that pale gray stuffsack).Pack for ultimate mobility, versatility, and necessity. Make travel an exercise in simplifying your material needs.
When in doubt, leave it at home. Whatever you forgot, or discover on the road you need (sunscreen, bathing suit, sandals), you can always simply buy it in Italy—and have a nifty extra souvenir of daily life to bring home. (I often return with odd, foreign brands of toothpaste.)
Speaking of which: you should leave a little space in your pack for accumulating souvenirs.
If, as you travel, you find yourself running out of room, stop at any post office to ship home the personal items you've found you didn't need—or just before flying home, mail your dirty laundry to yourself. This way, you can carry your new purchases instead of entrusting them to the local postal system.
How to tell if you've overpacked
If it doesn't all fit in one carry-on sized bag plus a daypack, you have overpacked.
If you can't lift your bag over your head and hold it there for 10 seconds, you have overpacked.
If you can't shoulder your load and walk five times around the block without breaking a sweat, you have overpacked (and should probably also hit the gym—all the walking you'll do makes travel in Italy an aerobic workout and you need to be ready).
Trust me, you'll be thankful later when you easily shoulder you bag and zip off to your hotel while the guy who sat next to you on the plane gets a hernia just trying to get his luggage out of the airport.
Make sure you use a moneybelt
Keep your all valuables in a moneybelt: one of these large, flat, zippered pouched you wear under your clothes.
A moneybelt is like a wearable safe for your passport, credit cards, bank/ATM cards, driver's license, plane tickets, railpass, extra cash, and other important documents.
In your wallet, carry only a single day's spending money—maybe $50–$80. (Replenish this as needed from your stash in the moneybelt.) » more
Assorted packing tips
Some bags have zip-away straps and waist belts that convert the pack into a more respectable soft-sided suitcase for waltzing into your hotel lobby.
To keep the bulk of your bag under the carry-on requirements, layer any thick sweaters and coats and such to wear on the plane (you can strip down once seated).
Label your bag: Whatever sort of pack or suitcase you choose, be sure to put a slip of paper with your name, home address, and destination inside each piece of luggage as well as attaching a sturdy luggage tag with a concealed address window to the outside (some criminals peruse visible luggage tags at the airport, collecting the addresses of people leaving on vacation).
Get as many tiny travel locks you have zippered compartments on your pack and daypack. Make sure it is one of the special combination locks that have a red diamond-like symbol meaning they're TSA-friendly (baggage screeners carry a secret code and a special back-door key so they can open the lock if they feel the need to paw through your valuables and dirty undies).
Note that the TSA is considering once again will allow you carry small knives in your carry-on bag. However THIS RULE HAS NOT YET BEEN PUT INTO EFFECT (despite some early news reports to the contrary). For now, you will still need to pack any knife in your checked luggage. Here are the official TSA regulations.
Split up your stuff. If you're traveling with others and plan to check your luggage, distribute everybody's stuff throughout all the bags. Have your traveling companion pack some of your clothes and you pack some of his. That way, if the airline loses just one bag, both of you will have something to wear until it turns up.
Many bags come with zip-off daypacks, which is an excellent idea (or bring a small backpack). Keep in it your first-aid kit, sections of your guidebooks you stripped out for the day's use, tissue packs, water bottle, journal and pen, Pocket knife, and umbrella.
Let's see. Besides a waterproof bathroom bag for the toiletries I think that's it.
| | | |
| --- | --- | --- |
| Section Index | | Related Partners |
| | |
| --- | --- |
| The Travel Store | |