Hiking the hills of Hong Kong
Hong Kong is, contrary to popular belief, more than two-thirds green, shady parkland and open space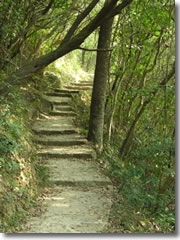 The shady pathways of the Hong Kong Trail. (Photo by Reid Bramblett)
Hong Kong is not a city. Oh, sure, it's got towering skyscrapers, tony mega-malls, and thronged street markets.

But that's just Hong Kong's type-A side, the sea of high-rises clustered along Hong Kong Island's north shore, filling the Kowloon peninsula across Victoria Harbour, and gathered in thickets across the mainland's vast New Territories.

What few people realize is that this iconic urban landscape covers a mere 30% of Hong Kong's 425 square miles. The rest of Hong Kong is open green space—farmland, forests, and designated Country Park —and it's crisscrossed by more than 180 miles of hiking trails.

This is a Hong Kong of waterfalls and family farms, of meandering pathways strewn with gordonia blossoms, of 32,640 woodland acres where macaques live in the trees and you kick up a cloud of butterflies with every step.
Heading for the Hills
When the chaotic traffic, stifling crowds, and incessantly plinking walk/don't walk signs get to me, I hop the scenic Victoria Peak Tram like everyone else. But at the top, halfway along the popular Lugard Road stroll around Hong Kong's highest peak, I abandon the throngs of joggers and sightseers, turn right while they continue left back to the tram station, and start down the first leg of the 31-mile Hong Kong Trail.

Soon, birdsong drowns out the city's distant din. The shady path courses over forested hills, across rushing streams, and through high grasslands. A break in the jungle canopy affords a view of the Pok Fu Lam Reservoir, snuggled into a cleft of green forest. A few picnic tables mark the site of a World War II pillbox bunker on a hilltop. I stand at the edge of a cliff and watch hawks wheel on the thermals below.

Rarely do I run into another person; just the occasional Cantonese out for a constitutional, who sings out a hearty "Hello!" to my "Ne ho ma!" greeting, a subtle honoring of each other's culture and language.

After a couple blissful hours, the skyscrapers of Aberdeen on Hong Kong Island's south shore pop into view. I head to the waterfront, dodge the old women haranguing me to take a junk ride, hop on an idling bus, and am back amid the high-rises of Central in 20 minutes.
Trailheads by Public Transport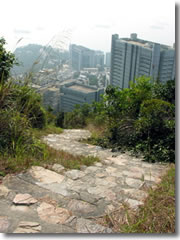 High above the skyscrapers on the Hong Kong Trail. (Photo by Reid Bramblett)
That leisurely, four-hour hike to Aberdeen covers just the first 7.5 miles of the Hong Kong Trail, which is actually merely the shortest of the region's four long-distance hikes.

The granddaddy of Hong Kong hikes is the 62-mile MacLehose Trail, which meanders across the breadth of the New Territories and summits most of its highest peaks.

The 48-mile Wilson Trail, which crosses Hong Kong Island, Kowloon, and the New Territories, offers the most varied terrain—paper bark forests, ancient stone paths, and abandoned villages.

Rugged Lantau Island, larger than Hong Kong but far less developed, has its own 43-mile trail linking villages, sandy beaches, farmland, and mountaintops. It even takes in the island's famed, 87-foot Tian Tan Buddha, sitting on a hilltop above Po Lin monastery.
Hong Kong Maps & Resources
All the mall bookstores carry locally produced hiking guidebooks. Pete Spurrier's The Hiker's Guide to Hong Kong is the best, packed with photos, public transport directions, ten family day walks, and the four long-distance trails broken into easily digestible one-day stages of 2.5 to 6.5 miles.

Hong Kong Pathfinder by Martin Williams—vignettes of two-dozen top hikes with clever tips from an enthusiastic local who has clearly walked every inch of Hong Kong's paths—is charmingly hand crafted but lacks the detail of the Spurrier book. Williams' Web site (www.hkoutdoors.com) is a far more useful tool, its walks well worth printing out.

Though trails are well signposted, it's wise to arm yourself with detailed maps. The Lands Department Survey & Mapping Office (www.landsd.gov.hk) publishes an excellent "Countryside Series" of topo maps with trails marked and good marginal info on bus and ferry routes.
When You Go...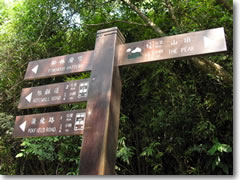 t's tough to get lost on the Hong Kong Trail, with distance, time, and bus stop directions detailed on bilingual signs. (Photo by Reid Bramblett)
Info: Hong Kong Tourism Board (www.discoverhongkong.com).

Dining: Supermarkets abound—including one in the Victoria Peak mall—for picnic supplies and hiking snacks. In the city proper, stick to noodle shacks and dim sum; simple restaurant meals will set you back $30 to $50—though I did have an incredible steak sandwich at Post 97 (9 Lan Kwai Fong; +852-2186-1837). If you go to the Tian Tan Buddha on Lantau, grab a $13 vegetarian feast at Po Lin monastery.

Lodging: Bishop Lei House is cheap and convenient to the Mid-Levels escalators, but has unforgivingly hard beds (4 Robinson Rd.; +852-2868-0828; www.bishopleihtl.com.hk; $57–$141).

The Ice House is a funky boutique hotel—mod furnishings, kinky see-through showers—with kitchenettes and free broadband in the heart of the Central action (38 Ice House St.; +852-2836-7333; www.icehouse.com.hk; $103–$194).

| | |
| --- | --- |
| The Travel Store | |