Shark bait
Adventures on the Caribbean island of Curaçao, from a jeep safari in Mt. Cristoffel National Park to feeding sharks, stingrays, and sea turtles by hand...and underwater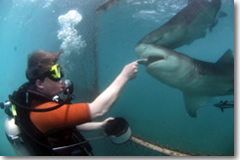 Giving herring to a lemon shark—and thanks to the inventor of Plexiglas. (Photo by Aline van Kampen)The main thing to remember when feeding a shark is to keep your fingers balled up in a fist.

"If you hold it in a fist, the shark sees the fish," explained Aline van Kampen, shoving a sardine between her thumb and forefinger knuckle and pretending to dangle it in front of a lemon shark's triple rows of razor-sharp teeth.

"If you hold it like this," she splayed out all her fingers, "The shark sees five fishes."

Great. Just what I needed. A dive master with a sense of humor.

Still, Aline clearly knew her stuff—even if, when talking about the eating style shared by nurse sharks and stingrays, she repeated the phrase, "They are sucking your fish," so often it I could barely keep a straight face.

So, safety and feeding lecture over, I strapped on my scuba gear, clipped two fish-filled drums to my vest, and followed her into the shark-infested waters.
Fish Food
The Sea Aquarium on the island of Curaçao has made a name for itself for therapeutic programs like the one allowing autistic children to swim with the dolphins.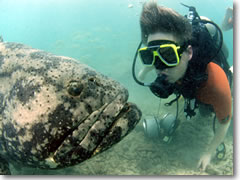 A meeting of the minds—I get up close and personal with a giant grouper at the Curaçao Sea Aquarium. It has also fenced off a large, natural enclosure by the shore, populated it with sharks, stingrays, and turtles the size of barcaloungers, and allows foolish tourists jump in and offer sardines to the sea monsters.

It helps that the sharks and the turtles are on the far side of the fences, and that you feed them through little holes cut in Plexiglas windows. Sure, that sounds a bit silly, but how often do you get to watch, from six inches away, the intricacies of a shark's mouth rending flesh, yet still swim away intact?

The stingrays, on the other hand, are in the same enclosure as the snorkelers and divers, gliding around gracefully, letting us stroke their soft bellies...and being incredibly pushy about trying to get a snack before their turn.

I'd be poking a herring through the Plexiglas, trying to entice a particularly ferocious-looking lemon shark I'd nicknamed Carl, when suddenly a phalanx of stingray would glide up and, basically, mug me. One flapped around my facemask as a distraction, another clamped onto my fish drum to try to suck out the sardines, and a third took experimental nibbles on the unfisted fingers of my other hand—just in case those might be fish.
The following day I discovered another Curaçao treat: iguana. Curried iguana, to be exact.

An Iguana in My Belly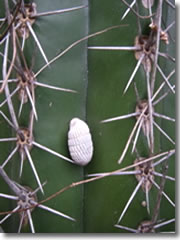 Mmmm, a big steaming plate of curried iguana, Curaçao's answer to Viagra. (Photo by Reid Bramblett) The roadside eatery called Jaanchies has been famous since 1936 for its cheap, heaping tin platters of shrimp, baked wahoo, dirty rice with beans and plantains, and fried potatoes, its twittering clouds of tiny Venezuelan troupials (commonly called "yellow-bellied sugar thieves"), and its side dishes of curried goat and iguana.

"Do you have a girlfriend on the island?" Jaanchie asked as I bit into a breast (like chicken, but bonier). "You better have a girl, because iguana will make a fire in your belly tonight!" He laughed and slapped me on the shoulder. (Since iguanas are, ahem, doubly endowed, they are considered a potent aphrodisiac.)

Picking bits of lizard from my teeth, I hopped aboard a yellow Land Rover for an afternoon jeep safari.
We jounced down the dirt roads of Mt. Cristoffel Park, visiting the 300-year-old ruins of a plantation home, hiking to sweeping island views, and learning the many interesting ways in which Curaçaoan plants can injure you.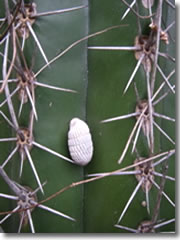 A snail seeks shelter behind the thorns of a kadushi cactus in Curaçao's Mt. Christoffel Park (Photo by Reid Bramblett)Anything that wasn't some form of cactus seemed to be a spiny waby bush, or a rubber vine lashing out with whip-like tendrils, or a manzanila tree dangling a poisonous, apple-like fruit. The closest any plant came to cuddly was the filo de diable, or "devil's thread," a sickly yellow, parasitic vine that entwines itself around everything.

According to our guide Steven Adamus—avid surfer and diver, part-time model, self-taught botanist, and former Mr. Curaçao—local girls find out if a boy likes them by draping a piece of Devil's Thread over a cactus in his yard. If the vine takes hold, that's the boy you'll marry—though the metaphor of strangling his cactus with your vine calls into question the Curçaoan concept of a healthy marriage.
The Blue Room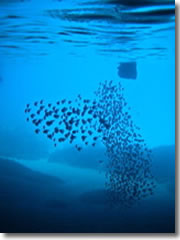 A school of rumbellies lets snorkelers swim alongside in Curaçao's Blue Room sea cavern. (Photo by Reid Bramblett.)Before my afternoon flight home, I grabbed another glimpse of underwater Curaçao at the Blue Room.
I swam past swarms of blue tang, frilly squid, peacock flounder, queen angelfish, and iridescent parrotfish right up to the coral cliff--then right under it, bumping my snorkel against the low rock.

Ten feet in, the ceiling expanded into a sea cavern populated by stingless jellyfish and huge schools of rumbellies. The sunlight from outside reflected off the sandy bottom to create an eerie turquoise glow as intense as a bottle of Blue Curaçao liqueur.
When You Go...
Curaçao is always warm—low 80s, both air and water—usually dry, and lies outside the hurricane belt. It's most crowded December to April; July and August can be a bit hot. Twice daily direct flights from Miami to Curaçao on American Airlines make transfers simple.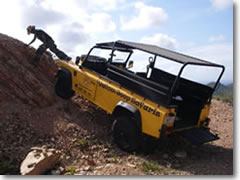 Steven Adamus tries to impress us with his driving skills during a Yellow Jeep Safari of Curaçao's Mt. Christoffel National Park, but only ends up fouling up the jeep (no worries; it only took him 20 minutes to figure out what he'd done wrong). The
Curaçao tourism board (800-3CURACAO, www.curacao-tourism.com) has island info and an accommodations guide. The San Marco hotel (011-5999-461-2988, www.sanmarcocuracao.com, $93) is in the heart of Willemstad. The simple Buona Sera (011-5999-465-8565, $50) is near the water, a ten-minute walk from downtown.

For a beachside boutique hotel outside town, try the all-suites Floris Suites Hotels (011-5999-462-6111, www.florissuitehotel.com, $165–$210 rack rates, from $130 online).
If you have the scratch, I recommend the Kura Hulanda (011-5999-839-3600, www.kurahulanda.com; book it). One property is a gorgeously restored village in the Otrobanda section of Willemstad (starting at $220–$290 rack rates, from $194 online), the other an eco-lodge with seaside duplexes at Westpunt (starting at $175–$300 rack rates, from $163 online).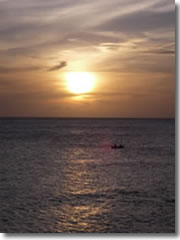 Sunset over Curaçao; the view from the Kura Hurlanda Lodge in Westpunt.Anyone can point the way to Jaanchies (011-5999-864-0126), by the side of the road in Westpunt, a good hour from Willemstad--but near the best diving and just down the road from the Kura Hulanda Lodge.

For information on the natural areas, including the Shete Boca and Mt. Christoffel Parks, visit www.carmabi.org. Yellow Jeep Safaris (011-5999-462-6262, www.tourism-curacao.com) charges $55 for a half-day tour, $79 for a full day one.
The aquarium's "Animal Encounter"—that's the bit where you get to feed the sharks—costs $34 to snorkel, $54 to dive (011-5999-461-6666, www.curacao-sea-aquarium.com).
Each resort has a dive boat partner offering scuba and snorkel trips. I visited the Blue Room with Ocean Encounters West (011-5999-461-8131, www.oceanencounters.com), managed at Kura Hulanda Lodge by a Chicago native and her Arizona-born husband.

| | |
| --- | --- |
| The Travel Store | |