Biking Vieques' virgin beaches and kayaking the Bio Bay
A multi-sport day on the Puerto Rico Virgin Island of Vieques—Mountain biking through the jungle, exploring Victorian ruins, swimming where the Caribbean meets the Atlantic at Punta Arenas beach, and kayaking the Bioluminescent Bay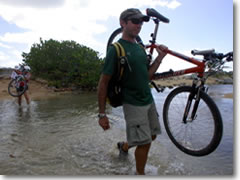 La Dulce Vida owner Karl Husson leads the way across a stream on Vieques. (Photo by Reid Bramblett)
I've learned never to argue with a man holding a machete. So when one of our guides, Mark Franco, Jr., whipped out his blade and said "Hey, you want to see something neat?" I simply hung my helmet on the handlebars of my rented Specialized Rockhopper and followed Mark into the jungle.
Five minutes of hacking later, we arrived at the crumbling remains of Playa Grande, the last of the great Victorian sugar cane plantations.
Tiny Vieques —Puerto Rico's "little daughter" just seven miles off its eastern shore—was once nicknamed Sugar Island, but the local industry collapsed in the 1930s. This plant struggled along until 1941, when the U.S. Navy took over most of Vieques to use for target practice.
"They relocated the whole village of workers," said Mark as we passed Playa Grande's broken rooms filled with leaf loam, picking our way down its arched brick corridors cracked open to the sky and fringed with garlands of vines. "It didn't take long for the jungle to reclaim it."
I had spent the morning circling the island's western end with Mark and his boss, Karl Husson, owner of La Dulce Vida Mountain Bike. Our tires fishtailed though sandy beachside trails and forded shallow streams as we whizzed past cove after abandoned cove of virgin beaches lined with coconut palms, mangrove, and sea grape—no resorts, no development, and only the occasional anchored boat for company.
We peeked into long cement ammo bunkers, camouflaged by grass roofs and empty save for the tiny bats clinging to the ceilings, and crossed the saddle of the island along a narrow path through thickets of mango and papaya.


The ruins of Playa Grande, a Victorian-era sugar cane processing plant on Vieques. (Photo by Reid Bramblett)
After bushwhacking to the remains of Playa Grande, we turned onto the dirt road to Vieques' northwestern tip. Beyond the 1,058-acre nature preserve of Laguna Kiani, a dark lagoon girded by a tangle of mangrove, lay Green Beach. This long swathe of sand must not see many visitors; as I waded into the warm surf, crabs scuttled nonchalantly across my toes, and a curious ray swam up to investigate my ankles.
While Karl broke out the organic snacks, I wandered up the beach to Punta Arenas and stood in the shallows at land's end. The water swirling around my legs ran alternately warm and cool as the turquoise Caribbean mingled with the deep blue Atlantic.
The fact that we could experience this storybook slice of the Caribbean at all was something of a miracle. The Navy continued using 70% of Vieques' 26,000 acres as a punching bag until 2003, when protests and pressure finally forced them to turn it all over to the U.S. Fish and Wildlife Service.
The island's eastern half is still littered with decades' worth of unexploded ordnance—and is closed to the general public as a National Wildlife Refuge. But while the western end has been entirely cleared of unexploded bombs, it remains gloriously abandoned.
Much has been written of the island's inhabited central strip, and I spent a pleasant afternoon in the low-key village of Esperanza. I hit the self-proclaimed "smallest aquarium in the world" (a few algae-streaked tanks, a tub scuttling with Vieques' clawless lobsters, and room of Taino Indian artifacts), and I scarfed down tostones, jerk chicken strips, and chili con carne on the breezy wood-plank verandah of Banana's on the beachside road.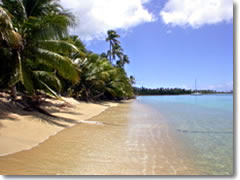 The ruins of Playa Grande, a Victorian-era sugar cane processing plant on Vieques. (Photo by Reid Bramblett)
But it was those jungle-clad two-thirds of the island, off-limits for more than half a century and shrouded in mystery, that drew me to Vieques. To seek out its secret trails, I needed local guides like Karl, Mark, and Tim Raymond, a bear of a man who owned Aqua Frenzy Kayaks.
I hooked up with Tim for a nighttime kayak tour of Mosquito Bay —a name that gives entirely the wrong impression. The cove is crawling not with mosquitoes but dinoflagellates.
You can't see these microorganisms—not even with 720,000 of the single-celled beasties swimming around each gallon of water—but since they flash with light when agitated, anything that passes through the Caribbean's best bioluminescent bay leaves a bright blue glow in its wake.
From his kayak, Tim delivered an informative nature lecture in laid-back dude patois as our paddles churned up ghostly effervescent glows and schools of fish shot through the water like turquoise tracer fire.
When we reached the best spot, I rolled off my kayak and swam in an aura of light, my flailing arms and legs leaving trippy echoes in blue. It was sublimely surreal. I filled my cheeks, tilted back my head, and sent a fountain of glowing blue shooting into the sky.
When You Go...
Arriving: Vieques is a 25–40 min flight from San Juan, Puerto Rico ($160–$180) using Vieques Air Link (888-901-9247; www.viequesairlink.com), Cape Air (800-352-0714; www.flycapeair.com), or American Airlines (800-433-7300; www.aa.com).

Activities: La Dulce Vida (www.bikevieques.com; day rentals $35, half-day/8–12 mile tours $75). Aqua Frenzy Kayaks (787-741-0913; two-hour tour $30).

Food & Lodging: Banana's Guest House is a simple Caribbean shack-like joint across from the beach: basic plank-floored rooms with no phone or TV, but with a friendly staff and one of the best casual dining spots along Esperanza's beachside road (787-741-8700; www.bananasguesthouse.com; with fan $65, with A/C $80).

Hix Island House has 13 lofts in four funky buildings that look a bit like Bauhaus-meets-Asia done in poured concrete geometry, with lots of interplay between inside/outside spaces; stylish and hip, with the prices to prove it (787-741-2302; www.hixislandhouse.com; $160–$210 in summer; $220–$295 in winter).
| | |
| --- | --- |
| The Travel Store | |