The wild side of Panamá
A wildlife cruise on the Panama Canal and Gatún lake full of monkeys, sloths, and crocodiles—and spotting elusive Harpy Eagle on a jungle canopy tour in Soberania National Park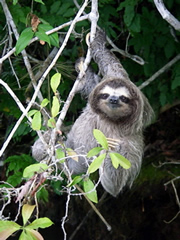 Wildlife, like this three-toed sloth, can get close enough to reach out and touch during boat tours of the Panama Canal and Lake Gatún. (Photo By Reid Bramblett)
I knew I'd gotten too close to the wildlife when the white-faced capuchin monkey I was trying to photograph started playing tug-of-war with my camera.

This was towards the end of a short boat tour from Gamboa Rainforest Resort, a lodge on the banks of the Chagres River where it empties into the Panamá Canal, and I was having of those incredible dumb-luck days for wildlife spotting.

Our little pontoon boat had cruised up the canal's Gaillard Cut, dodging the occasional thousand-foot-long container ship, and slipped into Gatún Lake to thread the maze of tiny islands that had once been mountaintops before the canal project flooded the region.

We motored slowly along the shore of one island where our guide, Nodiel—a veritable encyclopedia of rainforest flora and fauna—said we might be lucky enough to spot a sloth. While Nodiel scanned the treetops with binoculars, a fellow passenger pointed to the thick vegetation hanging by water's edge not ten feet away. "Is that a sloth?"

Captain Osvaldo—usually the first to spot a speckle-backed alligator basking on the banks or giant Blue Morpho butterfly flitting past—nosed the boat toward the silver-furred creature.

The three-toed sloth was a male—you could tell by the black-striped splash of orange skin visible through the typical bald spot on his back—and moved in the comical slow motion you'd expect from an animal named for the most laid-back of the seven deadly sins. I was at the front of the boat, and as the rail bumped against the curtain of thick vines that served the sloth as a ladder, he slowly turned his head and craned his long neck to investigate me with ancient eyes. I was less than a foot away, and had to fight the urge to reach out and scratch his shaggy mane.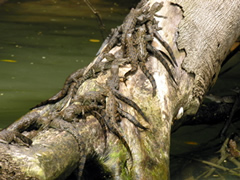 A pile of baby crocodiles sun themselves on a log at a Lake Gatún island along the Panama Canal. (Photo By Reid Bramblett)
At a neighboring island, while we were silently willing a troop of howler monkeys lazing about the high branches to roar for us, Nodiel suddenly got excited. "Look, look!" He was practically jumping up and down, pointing to a half-submerged log by the shore. "Forget the monkeys. This is much better. This you never see!"

The log was piled with what must have been 30 to 35 infant crocodiles, each no more than eight to ten inches long. More were swimming around in the water. My first thought was, "Cool, baby crocodiles!" My second, more unsettling one, was, "I wonder where mama is?" as I realized how very small our boat was.

I scooted back from the railing a bit as Nodiel mentioned that some groups get to glimpse a Jesus Christ lizard —that darling of National Geographic specials that can dash across the surface of the water on his two hind legs. Not thirty seconds later Courtney, our resident sloth-spotter, said "Hey, check out that lizard!"

We joked that all Nodiel now owed us was a harpy, the world's largest and most powerful eagle and the national symbol of Panamá—but we knew those were endangered and extremely rare. Since 1992, biologists have found fewer than 50 nests over the harpy's entire range, stretching from Mexico to Argentina.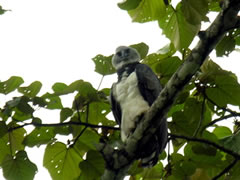 Spotting the endangered harpy eagle is a rare treat, even in the Panamanian rainforest. (Photo By Reid Bramblett)
That afternoon, as we arrived for a canopy tour aboard Gamboa's aerial tram—sort of a jungle ski lift gliding along at bird's eye level for optimal viewing of toucans, parakeets, and any of Panamá's 960 other avian species that might show up—Nodiel grinned and pointed up into to a nearby tree.
The bird perched on a high branch was massive. It must have stood over three feet tall, with a wingspan of nearly seven feet. Its wings were slate black, it's chest white with a high black collar. The gray feathers on its head were mussed up into a raggedy punk hairdo. Its talons were the size of bear claws, and I knew they could easily crush the bones of a sloth or monkey. The thing looked like it could carry off small children.

It was a harpy eagle.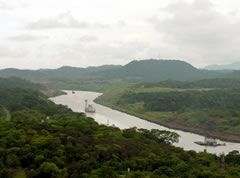 A view of the Panama Canal's Gaillard Cut from the watchtower at the Gamboa Rainforest Resort. (Photo By Reid Bramblett)

At the top of the tram we climbed a hundred-foot watchtower to gaze over the unbroken rainforest canopy of Soberania National Park, listen to howlers roar in the distance, and watch granary barges and mega-tankers glide along the Panamá Canal through the heart of the Central American jungle.
When You Go...
There are direct flights to Panamá (800-231-0568, www.visitpanama.com) on Delta (via Atlanta), American (via Miami), Continental (via Houston), and Copa (via Newark).
Gamboa Rainforest Resort (877-800-1690, www.gamboaresort.com) charges $225 for a double in the main building, where the balconies and hammocks overlook the Chagres River, $140 to $165 for a mini-apartment in one of the (viewless) historic villas that were one homes for workers with the canal's dredging authority (and where they filed scenes for The Tailor of Panama). The hour-long Monkey Island boat ride costs $20; the two-hour aerial tram tour $35.


| | |
| --- | --- |
| The Travel Store | |