Jungle Treks and Elephant Lessons on Thai Islands
A day-trip from Koh Samui, exploring the islands of Ang Thong Marine Park—panoramic vistas, the hidden "The Beach" lagoon at Koh Mae Koh, snorkeling, kayaking, and an elephant ride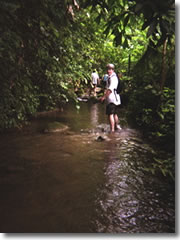 The author on his jungle trek—at this point, only ankle deep in the water. (Photo by Frances C. Sayers)
I was waist-deep in the stagnant water of a Southeast Asian jungle river, having Vietnam-movie flashbacks, when, suddenly, something slithered past my leg.
I slipped off the underwater root I was treading and plunged into the dark pool up to my chest.
Spluttering, I hauled myself partway up the slippery submerged bank, turned to my girlfriend, Frances, and said. "Okay, you're right. He's definitely lost."
Sami, our half-Thai/half-Jamaican guide with a high-pitched giggle and Rastafarian tendencies, had promised to lead our group of ten to a spectacular waterfall in Ang Thong Marine Park, the "Golden Basin" group of 41 largely uninhabited islands scattered over 39 square miles (102 sq. km).
Problem was, he wasn't entirely sure where it was—or, indeed, if this was the right island.
This was near the end of our full-day Ang Thong excursion from nearby Koh Samui, the main island in the Gulf of Thailand (the side of Thailand's southern peninsula that was completely unaffected by the 2004 tsunami).
Though Sami was friendly and laid back, he spent far less energy doing the actual guiding than he did either hitting on the trio of cute Singaporean girls or scoring ganja off the young Israeli couple, who spent the entire day alternately sleeping aboard the boat and toking on the beaches.
But a dazed-and-confused guide only added to the surreal experience of Ang Thong. After breakfasting on the boat during the two-hour ride to the park, we paddled sit-atop kayaks to the shores of Ko Mae Ko. Sami scampered ahead while the rest of us laboriously zigzagged up a cliff path and scrambled through a narrow rock cleft. I arrived first to find Sami slouching against the platform railing.
"Nice view, yah?" Sami grinned and swept his thin, dark arm across the scene. Before us, the jungle opened up to reveal Ko Mae Ko's famed hidden lagoon, a massive azure eye of crystalline water fully encircled by sheer karst cliffs dripping with vegetation.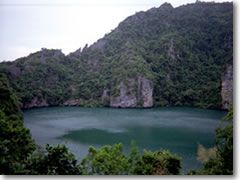 The hidden lagoon on Ko Mae Ko was the inspiration for Alex Garland's novel (and the Leonardo di Caprio movie) "The Beach" (Photo by Frances C. Sayers)
Sami giggled and bobbed his head, jamming along to an unheard beat. "This is where they get idea for The Beach. You know: Leonardo di Caprio movie?"
That, of course, I already knew. Spend more than five minutes on a Thai island and you can't help but run into references to Alex Garland's cult novel—and the movie it inspired—about backpackers who think they've found a paradise beyond the pages of their guidebooks.
With the motorboat anchored a ways off the next island, Frances and I battled the ocean swells to get our all-but-unsteerable kayak ashore. A stiff, 20-minute hike from the beach led to a mountaintop view across the island-dotted sea.
By afternoon, after a fruit-and-curry picnic on the boat, the seas were too rough for the tour's usual kayak/snorkel trip along the cave-ridden coast of an outer island, so Sami suggested our ill-fated hike.
By the time we hit the long pool of slithery things, Sami admitted he had just assumed we would run across a big waterfall at some point. Most of the group grumbled on our way back to the claptrap fishing village where we'd parked our boat and our stoned Israelis, but I didn't mind.
The hour-long hike up a steep mountain stream, getting wonderfully wet and clambering over a hundred micro-cascades, was the taste of jungle trek I'd been craving.
We returned to Ko Samui—at the docks, Sami said good-bye and headed off to party with the Israelis—for the included cheesy, 20-minute elephant ride through a coconut plantation. It was a lurching experience, a bit like a drunken teeter-totter ride, only smellier, designed mainly as a photo-op.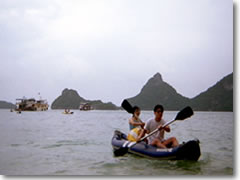 Paddling ashore in the Ang Thong Marine Park. (Photo by Frances C. Sayers)
In a largely pantomimed conversation with our driver, I learned that our elephant's name was Dao, and she was 33 years old.
When we paused in a clearing, the driver motioned for me slither off the passenger platform onto our ride's neck.
As the sun set over the jungle canopy, he showed me how to slip my knees behind Dao's rough ears and take an elephant for a spin.

When You Go
Ko Samui is a one-hour, $50 flight from Bangkok on Bangkok Airways (+66-022-655-555, www.bangkokair.com).
Bang in the center of four-mile-long Chaweng Beach sits The Island (+66-077-230-751, www.theislandsamui.com), a resort of large stylish A/C bungalows starting at $35—though we plumped for a thatch-roofed villa right on the beach ($62-$85), mere steps from the massage mats and the wooden tables set in the sand for fantastic, inexpensive dinners.
For a fine-dining treat, wander up the beach to Budsaba Restaurant at Muang Kulay Pan Hotel (+66-077-422-305, www.kulaypan.com), recline on cushions in a private sala (miniature open-sided hut on stilts), and enjoy live traditional music (Tues, Thurs, Sat, Sun) and a veritable feast for $16.
That all-day Ang Thong Marine Park tour I took came from a company that no longer exists, but you can get a similar one from a local outfitter via www.viator.com from $80, including meals.
Tips
How to get to Ang Thong Marine Park: The gateway to the park is nearby Koh Samui island. You'll have to take a boat tour to visit Ang Tong. Local travel agencies or your hotel can easily arrange these, or book one in advance via our partners at Viator.com:
| | |
| --- | --- |
| The Travel Store | |