The Jatbula Trail: An Aboriginal songline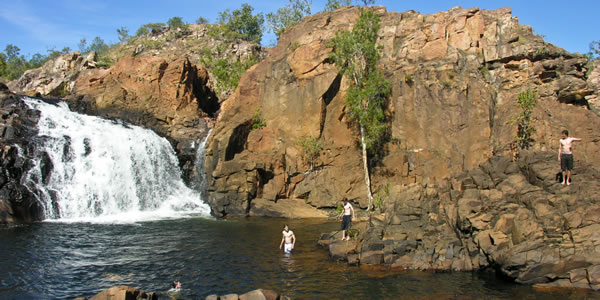 A swimming hole along the Jaubula Trail.
Trekking the Jatbula Trail—an ancient Aboriginal songline—through the Australian Outback of Nitmiluk National Park in North Australia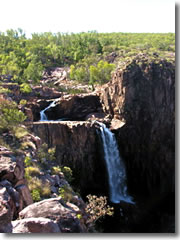 A camp beside 17 Mile Falls is the highlight of Australia's Jatbula Trail.
I had to walk three days through the bush for this view, but it was worth it. I stood at the edge of a red sandstone cliff.
Beside me, the zigzag of 17 Mile River thundered over the precipice into the monsoon forest far below.

The Australian Outback panorama at my feet stretched to the horizon, a swathe of unbroken wilderness larger than Switzerland.

From the stringybark trees by camp, a kookaburra cackled. I watched as a flock of red-tailed black cockatoos slowly flapped over the eucalyptus canopy and a peregrine falcon soared off the cliff.

From nearby I heard Clayton say, "Hey, I just saw a kangaroo!"

Perfect.
An Aussie Trailhead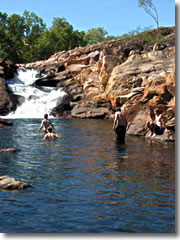 The swimming hole above 17 Miles Falls on Australia's Jatbula Trail.
Clayton Erwin was one of a gaggle of American teenagers on a month-long Aussie adventure tour run by Wilderness Ventures. I was tagging along for a five-day trek down the Jatbula Trail, a 66km bushwalk through Nitmiluk National Park in Australia's tropical Top End, about three hours south of Darwin along the Stuart Highway.

The trailhead was at the tourist-ridden Katherine Gorge, but after a few short kilometers we left the day hikers behind at Northern Rockhole waterfall and went bush. The only other human beings we saw for the next five days were two fast-hiking locals who caught up to us at our final campsite.

That's not so unusual; the Jatbula is one of the Northern Territory's best-kept secrets, hiked by only about 200 people a year.
Following the Songline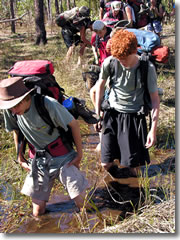 Mucking through a swampy march along the Jatbula trail—this is why you bring sandals.
The Jatbula wends its way through the Outback along little rivers lined by paperbark trees and through endless spinifex grasslands shaded by ironwood, bloodwood, and red gum trees, the ground forested with knee-high termite mounds.

Some days we'd muck across sandal-sucking bogs, others were spent clambering over boulder-strewn tablelands. Occasionally, we'd dip into a palm- and fern-filled monsoon forest, a vestigial pocket of the vast rainforest that once covered Northern Australia.

The way was blazed with blue triangles on little metal cards hung from branches (or, where those were missing, beer cans), but this was no modern trail laid out by backpackers or pastoralists. This is Jaowyn country, and the Jatbula follows an old Jaowyn songline, an Aboriginal path walked by Dreamtime creatures as they sung the world into existence.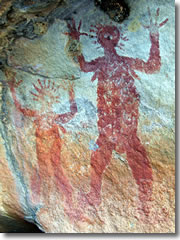 Ancient aboriginal pictographs on a boulder along the Jatbula trail.
This songline was marked as a trail with the help of Ryan Barawei, the traditional owner of the land making up Nitmiluk National Park, whose father and grandfather—and countless generations before them—had walked its course.

During one lunch break in the shade of some boulders, Jen, our guide from Gecko Canoeing, pointed out some ochre figures painted under a small cleft in the stone. The figures' wild hair and six fingers indicated they were protector spirits, but their age is anybody's guess.

Since the pigment was ochre soaked into the stone, it isn't carbon-datable. The images could be 200 years old or 20,000. On an Aboriginal songline, age is irrelevant anyway. The Dreamtime is the all-at-once time, where past, present, and future coexist.
Life in the Bush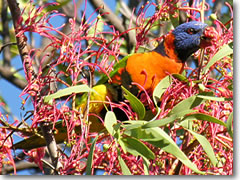 The spectacularly colorful red-collared lorikeet of Australia.
We got up before dawn each day to hike anywhere from seven to eleven miles before the afternoon heat set in. We camped each night by a waterfall or billabong (water hole), rolling out our swags (sleeping bags) under groves of ashy stringybark trees and wild plum.

I liked setting up near a flowering grevillea tree since they seemed to draw piping finches and red-collared lorikeets, spectacularly colored birds clearly designed by a child ignoring the paint-by-numbers instructions and determined to use every color at least once.

We spent afternoons swimming and sunning in the rivers, where firetail skinks scuttled under rocks and six-inch-long spiders spun webs across the water. We caught freshwater prawns and snacked on green tree ants. (The trick is to bite off the bright green abdomen for a tangy, sour burst of flavor—before the ant bites you.)

For the final two days, we followed the Edith River from its source, bubbling up amidst stumpy palms, all the way to Leylin and the mighty Edith Falls. Here the Jatbula songline ended in a stair-step series of cascades and billabongs above a campground, with a single road cutting across bushland that stretched to the horizon.
When You Go...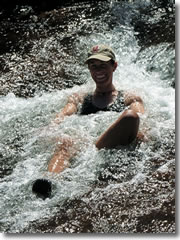 Trekking guide Jen cools off in a rushing stream.
Fly into Darwin to get to the Jatbula.
The Jatbula has been there for millennia, but 2006 was the first year any outfitter offered guided treks: Gecko Canoeing & Trekking (tel. 011-61-(0)8-8972-2224, www.geckocanoeing.com.au). A five-day guided trek starts at $795 if you provide your own equipment and meals, $1,495 for all-inclusive. (Minimum of two and maximum of ten people.)

The trail is only open during the June-Oct dry season. If you want to go it alone, pick up a permit from the Nitmiluk National Park office near Katherine ($3.30 per person per day, plus a $50 refundable deposit; tel. 011-61-(0)8-8972-1886, www.parksandwildlife.nt.gov.au). Permits are limited to 10 peiple per campsite per night, so contact them early to ensure a spot. For more on the region, visit www.australiasoutback.com.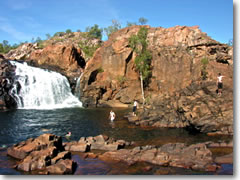 The upper pool of Edith Falls on Australia's Jatbula Trail.
Bring sunscreen and a wide-brimmed hat against the hot sun. Carry both hiking shoes and sandals—for bogs and river crossings—as well as insect repellant.

You'll probably want a tent, though the bugs aren't too bad (assuming you're used to camping and to tolerating a few mosquitoes at dusk), but you could get away with just a tarp and sleeping bag—what Australians call a swag. Also pack five days worth of food—unless you want to spend the whole trip eating ants.

| | |
| --- | --- |
| The Travel Store | |