Fundació Joan Miró
★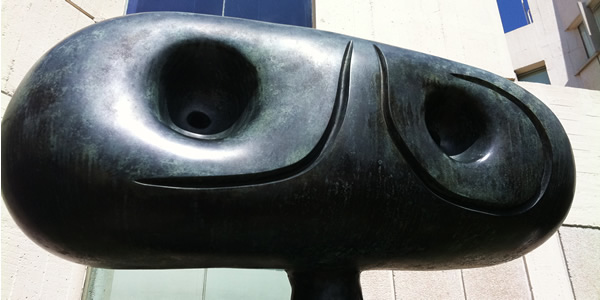 A detail (just the head) of "Personatge" (1970), by Joan Miró at the Fundació Joan Miró. (Photo by Kippelboy)
Whimsical modern art in a hillside museum with lovely views over Barcelona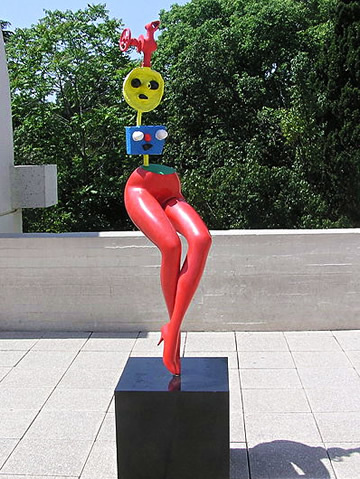 Young Girl Escaping (1957) by Joan Miró. (Photo by Tomáš Páv)The world's greatest collection of art by Barcelona native Joan Miró (1893–1983) inhabits this appropropriately modernist building (designed by Miró's friend, Josep Lluís Sert) snuggled into the Laribal Gardens overlooking Barcelona on Montjuïc hill.
The foundation owns a staggering 14,000 works by the modern master of colorful whimsical, often delightfully playful art, including 217 paintings, 178 sculptures, most of his graphic works, and more than 8,000 drawings.
These are accompanied by works by Miró's contemporaries, donated or loaned to the foundation after his death, including art by such 20th century Titans as Marcel Duchamp, Max Ernst, Alexander Calder, Wifredo Lam, Fernand Léger, Henry Moore, Claes Oldenburg, Robert Rauschenberg, Antonio Saura, Yves Tanguy, and Antoni Tàpies.
The foundation also puts on excellent temporary exhibitions of everything from Avant Garde to contemporary trends in art.
Tips & Links
Fundació Joan Miró details
How long does the Fundació Joan Miró take?
Fundació Joan Miró tours
Save with a sightseeing pass
Useful links & resources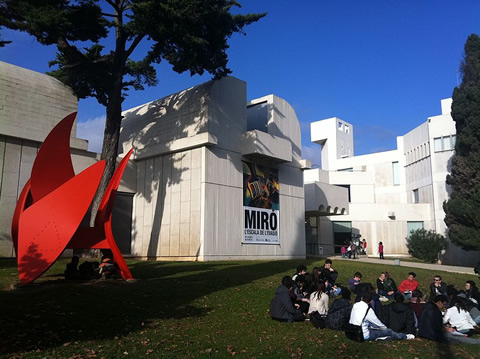 The Fundació Joan Miró. (Photo by Kippelboy)
Related Articles
| | |
| --- | --- |
| The Travel Store | |
Fundació Joan Miró
ADDRESS
Where Av. de l'Estadi becomes Av. Miramar, Parc de Montjuïc
[ Montjuïc ]
Tel.
+34-934-439-470
www.fundaciomiro-bcn.org
OPEN
July-Sept:
Tues-Sat 10am–8pm (to 9:30pm Thurs), Sun 10am–2:30pm
Oct-June:
Tues-Sat 10am–7pm (to 9:30pm Thurs), Sun 10am–2:30pm
ADMISSION
€11
With Barcelona Card
: Free
With Barcelona Museum Pass
: Free
Hop-on/hop-off bus discount
:
20%
TRANSPORT
Metro:
Paral-lel (L2, L3), then switch to the the underground funicular de Montjuïc;
or
Pl. Espanya (L1, L3, L8, S4, S8, S33), then bus 150
Bus:
55, 150
Hop-on/Hop-off route:
South (red)