Tales from the Underground
A lesson in the basics of caving (and overcoming claustrophobia) under the farmland of central Pennsylvania and the expert tutelage of the Philly Grotto.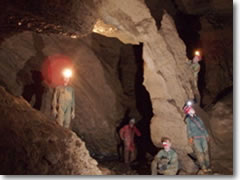 Philly Grotto members admire a natural bridge in a private cave in West Virginia. (Photo courtesy of Philly Grotto)
It felt as if an hour had passed since I had last drawn a full breath.
I was on my belly, my arms outstretched to pull myself forward with clawed fingers, my head turned sideways to fit it through the ever-narrowing horizontal crack between two layers of rock.

Up ahead was a tiny hole through which I wasn't entirely sure I would be able to squeeze my shoulders. In an effort to make the final few feet, I forced the last bit of air from my lungs, compressing my ribcage enough to slide it under the tons of rocks above.

Finally my fingertips gripped the edges of the hole. I hauled myself forward, wriggled my shoulders and chest through, and took a deep, grateful breath.

"That wasn't so bad, was it?" I craned my neck upward, and the headlamp duct-taped to my old bicycle helmet shone on my guide, Fran, who grinned at me from the crevasse above.

She reached her hand down to me. I grabbed her arm to heave myself up and out of the hole, mumbling something about reliving my own birth, and looked around the cavern.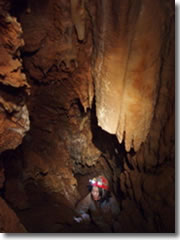 Philly Grotto member Naoko hauls herself up a slot in Pennsylvania's Corker Hill cave. (Photo courtesy of Philly Grotto)
It was a long, low room about 25 feet long, eight feet high, and riddled with holes through which threaded a number of side tunnels. I couldn't see any of the Boy Scouts in my charge, but I could hear their shouts and laughter echoing from the holes all around along with the occasional flash of dim light.

"Don't worry, they can't go anywhere," said Fran, who had turned the boys loose to explore. "All the other passages lead right back to this room."
Fran was a college student and a member of the Philadelphia Grotto, the local group of avid cavers who had agreed to instruct, equip, and accompany our troop into a cave system hidden under the private land of an accommodating farmer in central Pennsylvania.
The cave was a wonderful honeycomb of limestone, a crazy web of multi-level passageways that crisscrossed one another in the dark, packed with all the things you imagine in the perfect cave: stone bridges over black chasms, tight squeezes through narrow cracks, and tiny brown bats dangling from the low ceilings like ripe fruit.
I heaved myself up onto a flat platform halfway up one wall of my hard-won cavern so I could lie down and wipe the sweat and mud off my face.
Boy Scouts kept popping in and out of the surrounding holes like some warped, three-dimensional whack-a-mole game. Then something Fran had said finally sank in. "Wait, if the passages don't lead anywhere, how do we get out?" She grinned wickedly and nodded back over my shoulder. I turned, and saw only the nearly invisible little slot through which we had come. I let out a groan.
Caving 101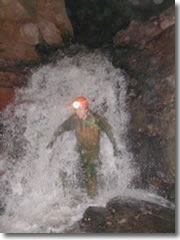 Nate Hirneisen washes off under an subterranean waterfall in in West Virginia's Mystic Cave. (Photo courtesy of Philly Grotto)
There are vast numbers of people whose idea of a great weekend is to find that proverbial hole in the ground and crawl into it. And the first thing you should know about them is that they are called cavers, not spelunkers.
"Spelunkers are the idiots who wander into a cave system with a handheld flashlight and no map," said Tom Blomer of the Philadelphia Grotto (www.phillygrotto.org).
"Cavers are the ones who have to go in there and rescue them."
Hooking up with a group of avid cavers like this is the best way to go about sampling the sport. Cavers organize local "grottos"—groups devoted to studying, mapping, preserving, and above all exploring caves—under the auspices of the National Speleological Society (www.caves.org).
Each grotto is different, but most meet regularly to talk caves and plan trips. They charge nominal fees to join (usually less than $10), and tend to be eager to welcome new members and interested amateurs interested in joining their next underground excursion.
Just bring a helmet, headlamp, gloves and boots, and a set of clothes you don't mind getting incredibly muddy—and leave your claustrophobia at home.
[Note: To help stop the spread of White Nose Syndrome, a fungal disease which since 2006 has been systematically destroying entire bat colonies in the Northeast U.S., most cavers have volunterily been staying out of caves in the mid-Altantic region for the past several years. As of 2012/13, it is offically suspected to have hit the are of caves where this article took place. I hear you can go caving up in parts of New England, though, since all their bats are dead already. This frightens me no end. We need bats. for more: www.batconservation.org, www.whitenosesyndrome.org, caves.org]

| | |
| --- | --- |
| The Travel Store | |