On the Rocks
Hiking the most brutal section of the Appalachian Trail from the Wind Gap in Pennsylvania to the Delaware Water Gap at the New Jersey border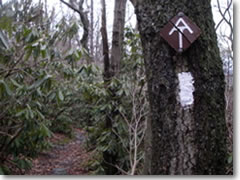 Rhododendron, the official state flower, and pointy rocks, the official state trail component, define the Pennsylvania stretch of the Appalachian Trail. (Photo by Reid Bramblett)
Every time we stopped, it began sleeting. Sometimes, it became tiny hail or freezing rain or fat snowflakes, but in any form it was marvelous incentive to keep moving down the trail.

Our legs were tired, our stomachs rumbled, and our feet were bruised by the endless pile of pointy quartzite that some cruel prankster had marked with white blazes on the surrounding trees to indicate that this was the Pennsylvania portion of the Appalachian Trail .

I grew up in Pennsylvania. My hiking skills were tempered on this notorious "where boots go to die" section of the AT. And, yes, I have exhausted several pairs of boots on it. This time, I had a brand-new pair from L.L. Bean (www.llbean.com) —plus a group of Boy Scouts I'm taking on a six-week cross-country adventure this summer—to break in.

I knew exactly where to introduce them to the rigors of backcountry backpacking: the sixteen miles of the Appalachian Trail from the Wind Gap to the Delaware Water Gap, just south of Stroudsburg, PA.
Hitting the Trail
We were also breaking in David Blais, a 27-year-old chemist who had never backpacked in his life, yet had impulsively decided to hike the AT's full 2,175 miles from Georgia to Maine this summer. This weekend was to be the first test of his resolve.

With a grin on his face and 50 pounds of spanking-new camping gear on his back, David cheerfully followed the boys up the side of Blue Mountain from the trailhead parking lot at Wind Gap.

We waited until the troop was a few hundred feet up before pointing out that they had missed the trail completely and managed, in true Troop 116 style, to get lost even before they had started.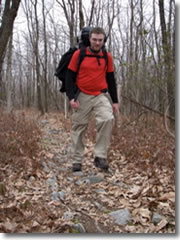 David Blais, on his first day backpacking ever, begins to rethink his summer plans to hike the entire Appalachian Trail. (Photo by Reid Bramblett)
We took a few minutes to review the trail-blazing system: follow the white marks on trees and boulders. Double blazes indicate a sharp turn; triple blazes warn of danger (steep drop-offs); blue blazes mark a side-trail to a shelter or water source.

We bushwhacked over to the actual trail and continued the 475-vertical-foot haul up the first mile of our hike. It's a good thing the scenery over the following six miles of felsenmeer (German, and geologist-speak, for "sea of rocks") consisted entirely of scrawny trees, because to take my eyes off my boots was to risk a twisted ankle or face-first sprawl.

After two miles of labored breathing, muffled curses, and the endless drone of boy scouts discussing video game strategy, David finally spoke. "You know. Maybe it's the leaf cover, but I've been glancing into the trees on either side, and I truly think that every rock in the area has been placed on the trail itself."

Nine and a half bruising miles and five brief, sleet-filled rests later, we stopped for the night at the only rock-free clearing for miles around. As we set up camp, the fickle weather decided to unleash—on this last weekend in March—a full-blown blizzard. The snow stopped long enough for us to cook up some pasta, huddle around a damp campfire, and gripe about rocks.
A White Night
A wet, sticky snow fell all night. By morning, three heavy inches carpeted the ground, and every twig and blade of grass was frosted in white. It was gorgeous, in that winter-wonderland-in-March way, but I couldn't help noticing that the farmland in the valley was snow-free.

The trail got measurably more pleasant as we continued northeast, often consisting of soft, forgiving dirt for hundreds of yards at a time. By late morning, we had summitted the 1,463 feet of Mount Minsi at the Delaware Water Gap.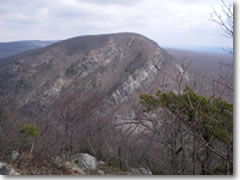 The Delaware Water Gap's 1,527-foot Mount Tammany offers one of the best geological cross-sections—a perfect, angled thrust-fault—along the whole Appalachian Trail. (Photo by Reid Bramblett)
This mile-wide pass neatly bisecting the Kittatinny Ridge offered the single best geology lesson along the AT: a 1,200-foot-deep cross-section of the Shawangunk Formation thrust-fault, its layers of gray sandstone and conglomerate tilted at an improbable 45-degree angle.

The final 2.5 miles of trail strairstepped 1,000 feet down this layer cake, plunging through groves of rhododendron and fording mountain streams to the forgotten 19th-century resort town of Water Gap, where the AT finally limps out of Pennsylvania and crosses into New Jersey.

We celebrated the hike's end with burgers at the Water Gap Diner . David was pretty quiet. I asked him whether he still planned to tackle the whole trail. "I don't know," he said, looking slightly forlorn. "Do I have to hike this section again?"

I glanced down at my battered, two-day-old boots. They looked like I'd been hiking in them for years. I grinned at him. "Sixteen miles down, 2,159 to go!"
When You Go...
The Appalachian Trail meanders along one of the planet's oldest mountain chains through 14 states, from Springer Mountain in northern Georgia to Mt. Katadyn in the backwoods of Maine. There are hundreds of sections perfect for day or weekend hikes.

In a very general sense, it gets more rugged and (arguably) more scenic the farther north you go—though if it's rocks you're after, I highly recommend Pennsylvania (for more on the Water Gap area: www.nps.gov/dewa). To hike the whole thing takes roughly six months, and only about one in five hikers actually finishes.

There are many excellent resources out there, including the National Park Service (www.nps.gov/appa), the Appalachian Trail Conservancy (www.appalachiantrail.org), and private sites such as www.whiteblaze.net and www.trailplace.com .

The best advice—where to camp, where to get gear and grub, cheap hostels for when you want a real bed, and all sorts of esoteric tips—comes from fellow hikers, so your best bet is simply to Google "Appalachian Trail" along with the names of the trailheads you intend to use. Happy trails.

(Addendum: David's Appalachian Trail trek ended up lasting about one week—which is a week longer than I or millions of others who've never even made the attempt.)

| | |
| --- | --- |
| The Travel Store | |