Hold your Own Olympic Games in Park City
If you missed Vancouver, you can get your Winter Olympics fix with a visit to Park City, Utah to ski the men's downhill run, rip the half-pipe, even take a bobsled run or learn to luge at the Olympics facilities from 2002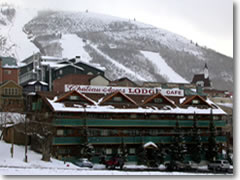 You just can't get any closer to the slopes at Park City Mountain Resort than the Chateau Apres Lodge—and it's cheap, to boot. (Photo by Reid Bramblett)
When you're standing at the top of it, a 70-degree ski pitch looks an awful lot like a vertical white cliff.
I snuck a glance at Nathan Rafferty, my guide from Ski Utah, who was contentedly looking out over the unbroken trees of the Wasatch-Cache National Forest surrounding Snowbasin.
I could tell he loved to get out of the office.
We were standing atop 9,465-foot Allen's Peak. The cliff beneath our skis was the start of Grizzly, the world-class ski run laid out for the men's downhill event in the 2002 Olympics. It drops 2,900 vertical feet in less than two miles. I looked at Nathan again.
"Well, this is Grizzly," he said, then grinned. "There are some real gnarly chutes down there."
He pushed off and gracefully sluiced his way down the pitch.
I mumbled a prayer, summoned by inner Bode Miller, and hurled myself off the cliff.
Let the Games Begin
While the world's greatest athletes are strutting their stuff over in Torino, Italy, you can test your own winter sports' mettle skiing the pistes, boarding the half-pipes, and screaming down the bobsled run at the 2002 Olympic facilities in Utah.
There are no lodging facilities at gorgeously isolated Snowbasin (888-437-5488, www.snowbasin.com)—though that will change within the next few years, so get here while it's still surrounded by woodlands rather then resort development.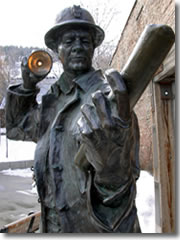 Most US ski resort towns are soulless conglomerations of condos and hotels, but Park City still still clings to its heritage as a 19th-century silver mining boom town. (Photo by Reid Bramblett)
Treat Snowbasin as a day trip and base yourself on the other side of Salt Lake City at Park City, the 19th-century silver mining town in the heart of the Wasatch Mountains that's currently recovering from its collective hangover after hosting the Sundance Film Festival.
Though the crowds are gone, the 99-inch snow base remains, with more of that famous Utah powder falling almost daily, and Park City is flanked by two excellent ski areas.
Despite the annual infestation of movie stars, Park City Mountain Resort, or PCMR (800-514-3417, www.parkcitymountain.com) hasn't lost its proletarian attitude.
It's a down-home mountain mixing downhill runs, bowls, and terrain parks. I once skied here with an English guide who shouted, "Tallyho!" before heading down a slope.
It's funky that way.
It's also the place to strap on a board and catch some air on the Eagle Super Pipe, where U.S. snowboarders snagged four medals in 2002.
At the opposite, conspicuous consumption end of the skiing spectrum is Deer Valley (800-558-3337, www.deervalley.com) a chi-chi resort with corduroy groomed slopes, ski caddies to carry your gear (and buckle your booties), and chillingly expensive five-star cuisine in the lodges.
Still, since lift tickets cost the same here as at PCMR ($74), why not pocket a few PowerBars, grab the free city shuttle, and see how the other half skis for a day?
Just up the road is the Olympic Winter Park (866-659-7275, www.utaholympicpark.com), where the ski jumping, freestyle aerial acrobatics, and all those variations on bobsled took place in 2002.
You can strap yourself into a bobsled simulator during a $7 tour of the facilities—but if you've got $200 to burn, experience the real thing by riding "The Comet," which hits 80 MPH and five G's in just under a minute. (Don't worry; you're just ballast; a pro does the driving.)
You can also sign up for lessons in skeleton (face first) or luge (feet first) at $150 for a half-day, or learn ski jumping for $65 a lesson.
When You Go...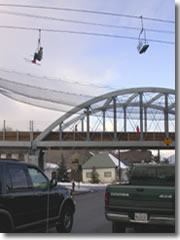 How's this for convenience? There's a lift for PCMR right in downtown Park City. (Photo by Reid Bramblett)
For the latest ski conditions, lift tickets, and ski/stay packages visit www.skiutah.com (800-754-8824). Other good deals resources are the Park City Visitor's Bureau (800-453-1360, www.parkcityinfo.com) and www.ski.com.
The cheapest flights into Salt Lake City are usually on Southwest (800-435-9792, www.southwest.com).
The mountains themselves offer great bargains—lift tickets and lodging, with a three-night, two-day minimum—including $99 per person per day at PCMR (that's for a hotel 1.5 miles from the mountain; a condo three blocks away runs $129; www.parkcitymountain.com), and from $119 per person at Deer Valley (www.deervalley.com).
If you go it alone, the cheapest beds in Park City are at the friendly Chateau Apres Lodge (800-357-3556, www.chateauapres.com), 150 yards from the PCMR lifts with achingly simple rooms ($90 single or double) and bunk beds in shared dorms for real penny-pinchers ($30 per person), breakfast included.
For a lot more atmosphere—and a lot more money ($140-$240 double)—hole up at the 1904 Imperial Hotel (800-669-8824, www.1904imperial.com), a haunted B&B that was once the Bogan Mine Co.'s boarding house. Ask for the Mayflower Room where resident ghost Lizzy and her lover were shot to death by her jealous husband.
For breakfast, nosh on natural foods at Jason Sanford's popular Morning Ray Café (255 S. Main St., 435-649-5686); at lunch, he makes killer sandwiches on fresh H&H bagels (New York's famous).
Dinner's good there, too, but pricey; I'd stick to the genuine fountain sodas and cheap pizzas at the low-key The Red Banjo (322 Main St., 435-649-9901).

| | |
| --- | --- |
| The Travel Store | |