Treasures of Olympia
Natural hot springs, a temperate rain forest, secluded beaches, and high trails through Olympic National Park—all in a day's circle tour of Washington's Olympic Peninsula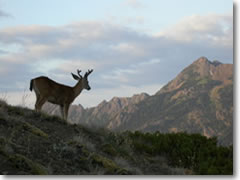 You'll have more deer than people as hiking companions on the trails in Olympic National Park. (Photo by Reid Bramblett)
When I glimpsed the naked hippies through the trees, I knew I was on the right track.
I'd been walking about an hour, steadily uphill from the end of Boulder Creek Rd., 2.5 miles back, when I started smelling the sulfur.
Past the happy nudists and a gaggle of older Japanese ladies chattering away, I found my spot: several shallow pools of slate gray water stair-stepping down the hillside.
As I climbed, I found that the pungent water in each pool got progressively hotter. In the topmost one I scalded my test toe lobster-red, so I settled into the pool below that, submerged myself to my chin, and gazed out across the endless forest of Douglas fir under a blue-sky dome.
The suckers at the Sol Duc resort one valley over were paying $10.25 to soak in cement pools filled with these hot-spring waters, but with an easy stroll in the woods, I'd snagged my own private, natural hot tub, surrounded by nature—and a few naked hippies—in the heart of Olympic National Park.
Riding Hurricane Ridge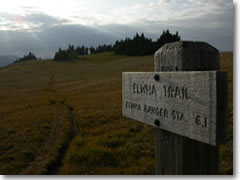 The Elwha Trail is just one hiking option from the Hurricane Ridge area of Olympic National Park. (Photo by Reid Bramblett)
At the northwestern-most tip of the Lower 48, Washington's Route 101 makes a neat loop around the entire Olympic Peninsula, linking the handful of short roads that allow you to pop in and out of the park.
Declared one of the world's top 100 parks by UNESCO, Olympic is home to the largest old-growth coniferous forest in the contiguous U.S., 70 species of mammals, 200 types of birds, and an impressive list of record-setting trees, including some of America's largest.
From the main gateway town, Port Angeles, a road heads south 19 miles—about as far as any road penetrates into this near-virgin wilderness—to Hurricane Ridge Visitors Center (which, in winter, doubles as the country's westernmost ski area—and one of only two in national parks).
I, however, was there in midsummer. I ambled up Hurricane Ridge trail, an easy 1.5 miles with an elevation gain of just over 600 feet—and one of the most scenic short hikes I've ever taken.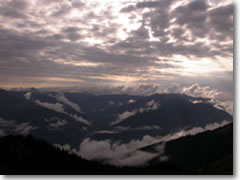 The view from Hurricane Ridge in Olympic National Park in Washington. (Photo by Reid Bramblett)
Marmots rooted around fields of wildflowers, vistas opened up over the Straight of Juan de Fuca to Vancouver Island, and I passed more black-tailed deer than I did people: deer grazing on the grasses by the trailside, scampering up the path in front of me, or just posing majestically on rocky spurs against a mountainous backdrop.
The trail ended at wind-whipped Hurricane Hill, a 5,757-feet aerie from which it seemed I could see across the park's entire 908,720 acres of wilderness: a sea of mountains prickly with fir trees and laced with low fog banks.
From the Hoh Rain Forest to Ruby Beach
I never expected to find a rain forest just this side of the Canadian border. The jungle-dense Hoh Valley, a long cleft on the park's western flanks, gets 12 to 14 feet of rain annually, making it one of the world's few remaining temperate rain forests.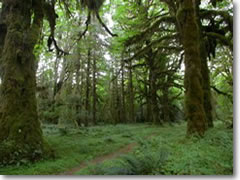 Trees dripping with mosses in the Hoh Rain Forest in Olympic National Park. (Photo by Reid Bramblett)
Gargantuan Sitka spruces and western hemlock, some of them 300 feet tall and 23 feet around, were completely upholstered in moss. The thick groundcover of ferns sprang under my feet and eerily absorbed most ambient sounds, and the light filtering through the canopy was an unearthly green.
From the turnoff for Hoh, Route 101 jagged westward to hit the Pacific at Ruby Beach at the southern end of the park's coastal strip, where mighty sea stacks rose from the sands at the ocean's edge.
As I watched a child dash back and forth, playing chicken with the waves, the setting sun suddenly tossed colors across the cloud-streaked sky, threw the sea stacks into dramatic shadow, and lit the wet sand with an incandescent glow in one of those sunsets you know you'll get only once in a lifetime.
When You Go...
Information: Seattle is the closest big gateway city, a two-hour drive—including the ferry ride—to the east. The Olympic National Park office is at 3002 Mount Angeles Rd., Port Angeles (360-565-3130, www.npg.gov/olym).
You can book a tour of the Olympic Peninsula from Seattle through our partners at Viator.com:
To plan hikes before you leave, download free topo maps from their Web site. Port Angeles has a helpful visitor's center (121 E. Railroad Ave., 360-452-2363, www.cityofpa.com). Also check www.olympicpeninsula.org.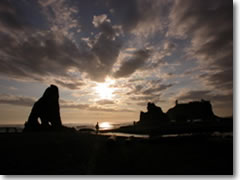 Food: Bustling Chestnut Cottage (929 E. Front St., 360-452-8344) does hearty breakfasts and lunches in Port Angeles a block from the turnoff for the road to Hurricane Ridge.
For dinner, suck down a juicy burger and fries from local landmark Frugal's, a retro chrome-plated drive-by kiosk at 1520 E. Front St. (360-452-4320, www.frugalburger.com).
Lodging: I rolled into town without reservations at the height of summer—bad idea—and had to make do with the first forgettable hotel that had a vacancy. Next time I'll book ahead for WiFi Internet and harbor views at family-run Port Angeles Inn (111 E. 2nd St., 800-421-0706, www.portangelesinn.com; $60-$150).
Activities: In summer, you can raft the relatively tame Class II rapids of the Hoh River (July through Labor Day) or the Elwha River (April through Labor Day) with Olympic Raft & Kayak, (888-452-1443, www.raftandkayak.com; 2-hour trips run $49).
In winter, contact 360-457-4519 or www.hurricaneridge.com for conditions on those 10 ski slopes (two tow-lines and one lift) at Hurricane Ridge. The park service also offers snowshoe tours ($5 donation) at 2pm on weekends Dec 31-Mar 23.
| | |
| --- | --- |
| The Travel Store | |