Europe for Free
Free sights, experiences, monuments, museums, and events in the cities of Europe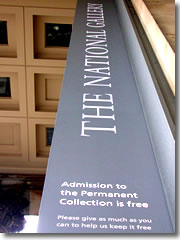 London's National Gallery is free.
There's an old Andalucian proverb: "Of things which are free, you must fill your basket." Very practical, admirably pragmatic, but freebies would seem to have nothing to do with what most people wrongly view as the rather expensive exercise of travel. Not true.

There's more to see and do for free in Europe than you'd think—from world-class museums and art galleries stuffed with ancient wonders and Old Masters to gloriously landscaped parks and gardens and amazing palaces and marketplaces . If you know just where and when to go, you can find free concerts in London and free fashion shows in Paris. In fact, you could easily spend a fun-filled week in London, Paris, or Rome without ever spending a Euro-cent on sightseeing. There are even ways to sleep for free .

In other words, I'm here to help you fill that basket.
The lowdown in Europe for free
• London for Free
• Madrid for Free
• Paris for Free
• Rome for Free
• Venice for Free
• Florence for Free
Of course, getting to Europe, finding decent hotels and meals, renting a car and buying train tickets—none of this comes cheaply these days (though the Travel Tools section can help).
Luckily, some of the best sights and experiences in Europe are free.

Sure, the top museums charge hefty admission, but there are dozens that don't. And sometimes forcing yourself into penniless sightseeing is a great way to discover new and offbeat sights , whether it's the Perfume Museum in Paris, the Museum for the Blind in Madrid, or the Museum of Dead Souls in Rome. There are even ways to get into such biggies as the Louvre and the Vatican Museums for free.
Admission to most of Europe's thousands of churches is free—except in London, where they got things a bit backwards, charging for entry to the main churches and letting you into the top museums for free. These giant piles of Gothic and Renaissance architecture often seem to have been built as little more than magnificent display cases for frescoes, sculptures, paintings, mosaics, and stained glass by the top artists of Europe's Golden Age.
A stroll along the Seine or Thames remains free of charge, as does a ringside seat to the carnival of life in an Italian piazza, attending one of London's rollicking Parliament sessions, or sitting on the steps of Sacre Coeur to watch the sun set over Paris. There are dozens of special moments and unique experiences available everywhere, and I'll try to point out as many of those as I can, even if some do carry a tiny price tag (perhaps the cost of a bus ticket or a cappuccino).
How Europe for Free works
Each city is broken down into pages for sights that are
always free , sometimes free (usually one day a week or once a month), and churches (since, except in a few cases in London and Florence, they're almost always free), along with sections on free experiences , parks and gardens , markets , and discounts and sightseeing passes (museum passes and other ways to save money when it does come time to pony up for the big sights).
You'll be in some august company eking out a Euro-free live in Europe. George Orwell once spent some time purposefully Down & Out in Paris & London, living from day to day and hand to mouth, timing his stays at various shelters to work around their maximum length rules, and scraping together enough cash each day for his essentials: room, board, and cigarettes—throughout the book, you can't help but start thinking "If he'd just give up smoking, he'd have a far easier time of it all, financially."
I'm slowly finishing with these lists, adding more cities and expanding the descriptions. So print these lists out, stick them inside your guidebook, and enjoy cost-free sightseeing.

Section Index

Related Articles

Outside Resources
This article was last updated in October 2006. All information was accurate at the time.



about | contact | faq

Copyright © 1998–2010 by Reid Bramblett. Author: Reid Bramblett.