Travel Beyond Vacations™
All about the travel site ReidsGuides.com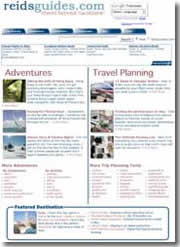 ReidsGuides.com is the only trip-planning site devoted to Travel Beyond Vacations™.
Veteran guidebook author, travel editor, and adventure columnist Reid Bramblett uses a combination of tales, tips, and tools to explore alternatives to the traditional in every aspect of travel, from lodging and transportation to sightseeing and experiences.
ReidsGuides.com aims to bring true adventure—whether cultural or physical, cerebral or culinary—back to the art of travel so that we can each return home from vacation with a richer, deeper understanding of wherever our travels take us.
What do I mean by Travel Beyond Vacations™? Well, you could spend your vacation in the deepest rut of the tried-and-true tourist path and a fabulous time, returning home with great snapshots of all the glorious sights. Or you could get out of those ruts and out of your comfort zone, get insights into the local culture, try something new, and end up having the trip of a lifetime.
What you'll find on ReidsGuides.com
ReidsGuides.com is focused on European trip planning, with emphases on money-saving tips and alternatives to traditional travel techniques, such as lodging options beyond hotels, no-frills airlines, short-term car leases, and sightseeing for free.
Not that the site ignores the other, traditional aspects of European travel, with everything you need to know about trains and railpasses, rental cars and cruises, passports and packing, tours and travelers checks, itineraries and ATMs, safety and tourist offices, haggling techniques and health concerns, and, yes, good old-fashioned hotels, airfares, and sightseeing.
It also serves as a repository for Reid's stories of adventure, both physical and cultural, around the world, and is currently developing destination coverage with city guides to Paris and London—and (now on the sister site ReidsItaly.com) Rome, Florence, Venice, and other Italian destinations—with more on the way.
Awards and accolades
Reid Bramblett's award-winning ReidsGuides.com trip-planning site (and its offspring sites NoFrillsAir.com and BeyondHotels.net) has been recommended by CNN, USA Today, the Wall Street Journal, Forbes, Smart Money, The Washington Post, MSNBC.com, Frommers.com, Fodors.com, Men's Health, Away.com, and National Geographic Traveler, and has been proclaimed "Among the best" by Arthur Frommer.
In 2004, it won the Lowell Thomas Travel Journalism Competition sponsored by the Society of American Travel Writers (www.satw.org). The site— which was, at the time, going by the name of TravelTools.net—won the Silver award in the category Internet Publication/Web site for 2003–2004. Here's what the judges had to say:
One of the best designed and easiest to use and view sites. Good, "personal" travel expert site with good links. Smart in that it specializes in European travel and does not try to encompass too much, nor is it too narrow. Great travel tools, which provide useful information with a perspective.
Aw, shucks.
Incidentally, Honorable Mention in that category went to the excellent TurkeyTravelPlanner.com, written and maintained by my friend and colleague Tom Brosnahan
This is encouraging proof that the little guy can still make his voice heard in the information wilderness of the Internet (the Gold went to LonelyPlanet.com, and the Bronze to the old Frommers.com—both of which are corporate sites that benefit from having staffs, budgets, and whole bookshelves full of guidebooks they can offer online for free).
ReidsGuides.com, on the other hand, has since its inception in 1997 been written, designed, and maintained in its entirely by just one person: guidebook author and travel expert Reid Bramblett. (Though the information has, on occassion over the years, been updated by James Sayers and Matt Finley, and Charles Prince-Lynn is currently helping to update the sister ReidsItaly.com site.)
Your humble publisher
Reidsguides is a registered company owned by Reid & Write, LLC, a Pennsylvania-based corporation. For more information, please contact:
Reid Bramblett, Owner
reid@reidsguides.com

| | |
| --- | --- |
| The Travel Store | |