Leaving Las Vegas...On Two Wheels
Getting out of Sin City for some two-wheeled fun: single-track mountain biking in Bootleg Canyon, and road biking in Red Rock Canyon National Conservation Area, just 18 miles off the Las Vegas Strip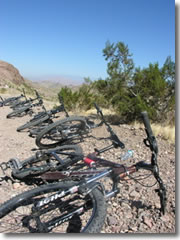 Full-suspension bikes are included (along with lunch and hotel pick-up) in the $100 half-day guided rides at Bootleg Canyon, a single-track mountain bike park 40 miles southeast of Las Vegas. (Photo by Reid Bramblett)
I think it was the second time I was launched over the handlebars—or maybe it was the third—that the wisdom of wearing protective gear while single-track mountain biking really hit home.

It hit home hard.

My own wisdom had only extended as far as wearing a helmet, leaving my elbows, knees, and other exposed body parts to fend for themselves. Still, cuts and bruises were preferable to coats and ties.

See, I was supposed to be attending a travel writer's conference in Las Vegas , but there's only so much daily conventioneering and nightly carousing one man can take. At every lull in the schedule, I slipped away from Sin City for some action in the surrounding desert, and at my first chance to play hooky, I headed to Bootleg Canyon Mountain Bike Park.

Single-Track Action in Bootleg Canyon
Oddest question received at the Vegas.com call center (800-851-1703)? "My friends and I are coming to Vegas for the weekend, but we're a little short on cash. We were wondering what are the requirements to work in a strip club to make money to pay for our trip?"
After that third wipeout—picking myself out of the prickly juniper and creosote lining the East Leg trail, wiping the blood off my shins, and hobbling back up the trial to retrieve my bike—I finally figured out that my problem staying in the saddle was more psychological than physical. I just wasn't trusting the bike to gobble up the boulders. If you let one of these full-suspension machines ride right over the rocks, they'll absorb the bumps.

But, like most novice mountain bikers—especially one tackling single-track trails —I kept trying to steer between the obstacles. The trouble with this tactic is that, if I turned the wheel even a fraction, the rocks would suddenly grab that fat front tire, the back of the bike catapulted up, and I would find myself dipsy-doodling over the handlebars in a rather graceless forward flip.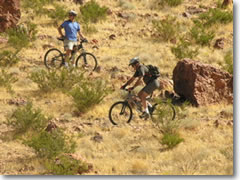 The switchbacks are tight and the trails thrillingly narrow at the single-track mountain bike park of Bootleg Canyon, 40 miles southeast of Las Vegas. (Photo by Reid Bramblett)
East Leg wasn't even a particularly difficult trail. It certainly wasn't one of Bootleg's nine gnarly downhill runs, with names like Reaper, Kavorkian, and Armageddon—though, oddly, the only triple black diamond is called "Ginger." (Mountain bike trails are classed like ski runs: easier green circles, challenging intermediate blue squares, and experts-only black diamonds, insane double blacks, and I'm-gonna-die triple blacks.)

East Leg was a blue, two-mile cross-country trail, but it did grind through a dual slalom course (wipeouts #1 and #2), and a tricky narrow bit nicknamed "The Hourglass" (wipeout #3). The trail ended at the park's picnic gazebo, where I continued back toward the highway (and rental shop) along the blue, 1.5-mile Middle Lake View, featuring some stomach-dropping dips and glimpses of Lake Mead shimmering in the distance.

I returned to Vegas for an evening of antibiotic creams, oversized Band-Aids, and pain-killing martinis in order to rest up for Red Rock Canyon the next afternoon. This was sure to be a far easier ride: on a road bike along a nice, smooth ribbon of asphalt...
Road Biking Nevada's Red Rock Canyon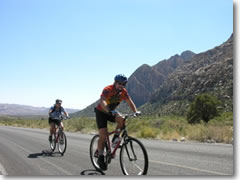 Only a seasoned biker like journalist Michael Shapiro could be smiling after that 1,051-foot haul up the loop road at Nevada's Red Rock Canyon, a glorious slice of the Mojave desert just 18 miles off the Las Vegas strip. (Photo by Reid Bramblett)
I'm not sure which gave out first: my legs or my lungs. All I know is that, a few hundred yards shy of the High Point Overlook , after hauling my rented hybrid bike up nearly 1,000 vertical feet of the Red Rocks loop road , my thighs started quivering uncontrollably and I began to hyperventilate.

I ended up pushing the bike the rest of the way to the 4,771-foot overlook, where a Korean family—who wisely had driven to the top—had just popped a bottle of champagne and were sipping bubbly while they gazed at the view.

The panorama swept across the Mojave Desert , framed on the left by the limestone Calico Hills, and on the right by the candy-striped cliffs of the Red Rocks Escarpment , a gray carbonite cap sandwiching layers of sandstone stained red, tan, and yellow by iron oxide.

As I coasted downhill to the end of the loop road, I had the leisure to catch my breath and admire the hearty desert vegetation: sagebrush, juniper, and mesquite, tons of Nevada bluegrass and rabbitbrush, and the occasional Joshua tree, its stunted branches furred with thorny leaves against a backdrop of red cliffs and blue sky.
When You Go...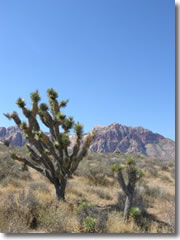 A Joshua tree with the Red Rocks Escarpment in the background in a glorious slice of the Mojave desert just 18 miles off the Las Vegas strip. (Photo by Reid Bramblett)
The 197,000-acre Red Rock Canyon National Conservation Area (702-515-5350, www.nv.blm.gov/redrockcanyon) is just 18 miles west of the Strip on West Charleston Blvd./Rte. 159.
You can get a bike tour of Red Rock (guuded or self-guided) from our partners at Viator.com:
Las Vegas Cyclery (800-596-2953, www.lasvegascyclery.com) runs guided half-day tours along the 13-mile scenic loop road for $99.99 to $109.99, including shuttle bus from the Strip, equipment, and box lunch. They also rent bikes starting at $30 per day.

The 35 miles of trails at Bootleg Canyon Mountain Bike Park (www.bootlegcanyon.org) are outside Boulder City, 40 miles southeast of Las Vegas on the way to the Hoover Dam.

A half-day guided ride costs $100--bikes, box lunch, and shuttle from your hotel included--with Boulder City Outfitters (800-748-3702, www.bouldercityoutfitters.com). For DIY'ers, a full-suspension KHS bike rents from $25 for a half-day, $40 for a full day—just be sure you ask for pads in addition to the helmet.
| | |
| --- | --- |
| The Travel Store | |