Munich buses and trams
The bus and tram systems in Munich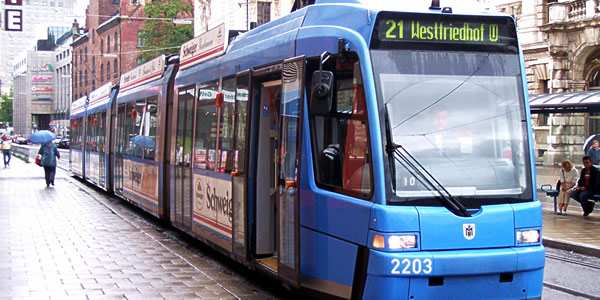 A Munich tram. (Photo by MaxM)
Tickets & info
All forms of transport in Munich use the same tickets and are operated by (or at least linked to) www.mvv-muenchen.de.Trams and buses don't service the Altstadt (old center of the city) very well—the S-Bahn and U-Bahn are more useful).
However, the trams and buses are handy for getting to a few areas within the Altstadt, and for traveling throughout Greater Munich.
Useful German
Fahrkarte - Ticket
Streifenkarte - Strip card
Tageskarte - Day ticket

Erwachsene - Adult
Kinder - Child

Eingang - Entrance
Ausgang - Exit
Nach - To (as in a destination)

Ein - One
Zwei - Two
Bitte - Please
Danke - Thanks
Here are the most useful lines:
Tram 19 runs along Maximilianstrasse and the northern part of the Altstadt before heading past Hauptbahnhof (the main train station).
Tram 18 heads in from the northeast (passing the Englisher Garten) and then wraps south around the edges of the Altstadt to Hauptbahnhof.
Tram 16 comes south along the far banks of the Isar River to Max-Weber Platz, then turns to cross the river to Isartor Platz, swings arounf the southern edge of the center to Karlsplatz, where it turns west past Hauptbahnhof train station and on to toward Nympenburg palace.
Bus 100 is the "Museumbus" and connects most of the city's museums.
Trams 27 and 28 start at Sedlinger Tor Platz (at the southwest corner of the center) and run north along Sonnenstrasse (the center's western ring road), past the museums, and up into the the trendy Schwabing university district.
Buses 52, 62, and 132 all putter around the Altstadt's southeastern corner.
| | |
| --- | --- |
| The Travel Store | |
Useful Links
SIGHTS
Tourist info:
Muenchen.de
,
Bavaria.by
,
Germany.travel
Tours & activities:
Viator.com
,
City-Discovery.com
,
Intrepidtravel.com
,
Gadventures.com
LODGING
Hostels & camping:
Hostelworld.com
,
Gomio.com
,
Hostelbookers.com
,
HostelsClub.com
,
Hostelz.com
,
Booking.com
,
Venere.com
,
Muenchen.de
(campgrounds list)
TRANSPORTAirports:
Munich-airport.de
,
Allgaeu-airport.de
(Ryanair, flybe, Wizz)
Public transport:
Mvv-muenchen.de
Driving/parking:
Muenchen.de
Bike rentals & tours:
Viator.com
,
Mikesbiketours.com